Now we're in September, we're able to sit back and enjoy the veg [tag]garden[/tag].
It's our first veg garden and it's not gone as well as I had hoped but the boys have loved seeing the garden grow.
They have watered the garden with the garden hose. The attachment was a lot of fun to turn it and get different strengths of water coming out. The plants always made a good recovery after the high pressure blast the little guy loved to use.
Each morning they would go and check to see if anything was growing. They counted each new vegetable.
They learnt that courgette and zucchini are the same thing.
We all wondered why the cauliflower grew big leaves but a cauliflower the size of plum.
Here's some pics of the boys picking veggies from the garden.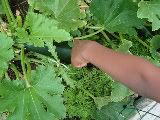 Connecting the food we have in the shops to what grows in the ground has been a lot of fun. Both boys are good vegetable eaters already but definately ate the courgette the time they picked it.
 
Not too many courgettes to make bread but enough to love it for dinner.
Lots of interesting discussion about food and growing food this summer.
************************************
Have you listened to the latest from play activities radio?
Perfect listening for back to school : Is Your Child on The Fast Track to Successs? Rae Pica with Denise Pope, Ph.D.
( Top right hand sidebar)
************************************
Following the birth of the newest little one, the family are taking a well deserved break to spend some time together getting to know the newest little brother.
**Play activities blog will be taking a very late summer holiday. Be back soon.**
Other vegetable gardens
Welcome Pumpkin!! (and welcome home Phil)
Highs and Lows of My Vegetable Garden