Welcome to the up and down world of parenting tweens and teens. It's the time when so many things are changing. Gone are the days when you're talking about the colour of poop and here are the days when you're talking about when to start using deodorant and help my child just watched porn!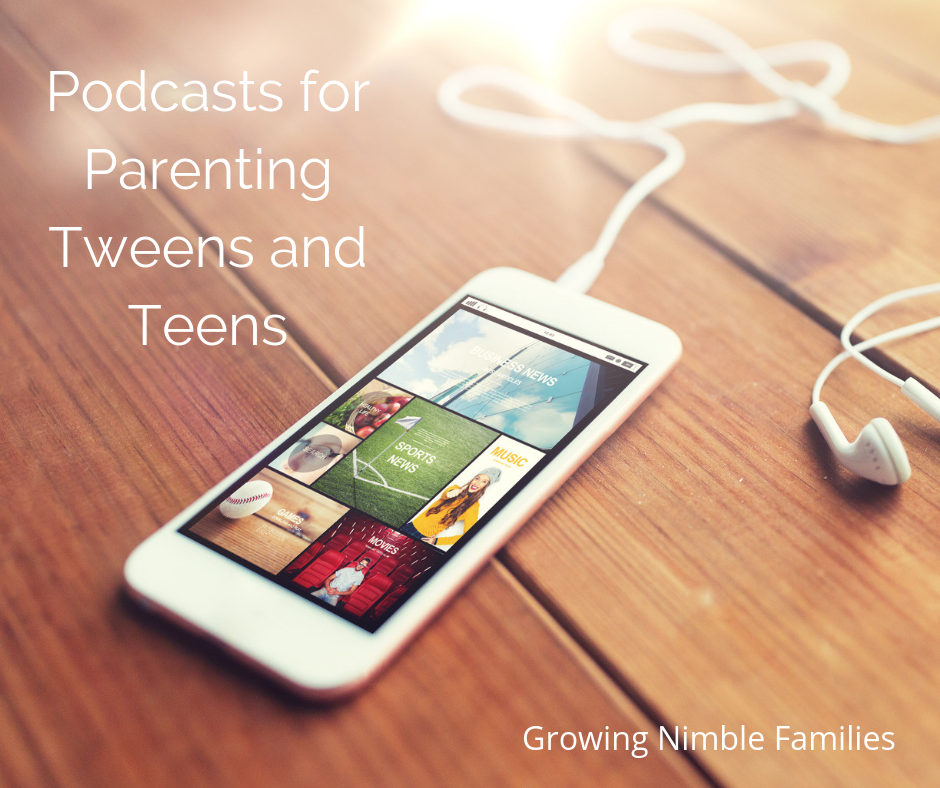 Podcasts are a quick and easy way to gain new information, have a digital friend and to have encouragement in areas that you just don't know.
It's easy to listen via your phone and select which shows and which episodes you'd like to hear. I love using either one of these apps; PocketCast especially as you can listen at different speeds and Stitcher. This is especially great for longer podcasts.
Listen on the way to work, in the car, shopping, working out and running; there are so many opportunities to stop and start that podcast during your day and get those nuggets of information, advice, reassurance and maybe a new direction.
These podcasts are for parenting tweens and teens. Check them out and subscribe to their shows to learn new habits, ideas and redirection.
 
What a great title! Audrey Monke talks with guests about camp, family and happiness. I love the diversity of the show guests and the questions she asks.
Recommended episodes:
Ep. 50: How to be a Happier Parent with K.J. Dell'Antonia
Ep. 41: Getting Comfortable with our Kids' (and our own) Discomfort with Christine Carter
 
Families negotiating now and looking back on then and the influence on now through stories, interview and flashbacks. I love listening into how other people are living. Both these episodes are really powerful, emotional and enlightening. So many take aways for our parenting journey. The flashback solo episodes I can totally related to and love hearing how is used to be done. Great perspective to see how we do now compared to what happened then.
Recommended episodes: 
Episode 21 – The Hot Young Widow's Club
Episode 20 – Family Ties
 
My show where we talk about raising strong flexible families. It's a mix of interview and solo episodes for families with school age families. Support and encouragement for mothers of school age kids.
Recommended episodes:
Mindfulness practices for families to have peaceful homes
Rethinking learning, motivation and grades for kids that are 11+
 
Studying is a major part of tween and teen life. Helping the kids to find the best ways that fit them and the most efficient ways that science shows is a big help as they start the study journey. I've been a big fan of the Learning Scientists and interviewed them here. We know more about studying and learning now. With the abundance of testing in our schools the kids need to know how to learn and study well. These are researched based practices are shared in easy to understand and try out language.
Recommended episodes:
Episode 20 – Sleep, Learning, and Self Care
Episode 16 – For Parents Interested in Student Learning Part 1

If you have a middle schooler or secondary school student then this is a great show for you. Adrianne has strategies for parenting tweens and teens; both in Math ( she's a math tutor) and this stage of experiences ( executive function, behaviors, math issues etc) With both solo episodes and interviews you can think ahead to upcoming things and deal with new present difficulties that show during these times.
Recommended resources:
SHRINKING THE COST OF COLLEGE: HOW TO START PLANNING IN THE MIDDLE SCHOOL YEARS [016]
GETTING YOUR KIDDO TO SPEAK UP: SELF-ADVOCACY WITH SETH PERLER [012]

Between the two hosts they have kids who are traveling through this time and kids who have travelled through this time. That experience and perspective as they do the same and do differently is really helpful as parents navigating the tween and teen years. They have shows where they talk with each other on a topic or article and also interview guests.
A podcast about simplifying and decluttering home and family life. Hosts: Christine Koh and Asha Dornfest.
Recommended episodes:
Episode 129: How to Teach Kids Life Skills
Episode 118: Coping With Parenting + Work Overwhelm
Episode 110: Untangling Overparenting
 
Support the changes that happen in family life and help parents reduce the stress of parenting. They use specific tools that are part of Hand in Hand Parenting.
Recommended episodes:
Growth Mindset, Winning, and Why It's Important for Your Child
Raising Boys and Girls Differently According to Brain Science

Mercedes video podcast is an extension of her work on Shameproof Parenting and #endparentshaming with guests that give advice and practical suggestions on raising tweens and teens. She has some amazing episodes especially good if you are experiencing new avenues through the teen years and all the episodes encourage us to have a big dose of empathy, understanding and perspective on family lives. Stories, ideas and an encouragement to reflect on your parenting.
Recommended episodes:
Episode 35: Healthy Communication with Teens
Episode 38: Helping Teens Establish Emotional Confidence

Just like the Hand in Hand podcast, Casey follows a parenting style. This time it is positive discipline. She interviews guests and also explores deeper issues during her solo shows. There are lots of other themes than positive discipline that like many of the podcasts listed here encourage you to reflect, learn a little something and try a new way.
Recommended episodes:
Eps 154: Dr. Dan Siegel Discussing the Science of Being Present
Eps 145: Deborah Reber is on Talking About Raising Differently Wired Kids
Who would you add?