Stuck on [tag]baby play ideas[/tag]?
Play-activities for babies? Singing, talking, changing them positions. There are so many things you can do with a baby. It's not about hot housing them and trying to get them to do things before their appropriate developmental stage but instead stimulating, calming and soothing them into the world.
Baby play-activities encourage bonding and set the stage for play interaction as they get older. The best advice is to get outside and walk with your baby whatever the weather. It's great for your mental health and the baby will enjoy the change of scene.
Example play-activities
[tag]Treasure baskets[/tag]for 6mtns+
Today's giveaway is a book celebrating the first 12 months of parenting. Perfect gift for the [tag]pregnant[/tag] mum or new mum.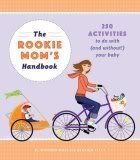 [tag]The Rookie Mom's Handbook[/tag]: 250 Activities to Do with (and Without!) Your Baby
Simply leave a comment on my blog during the party on this post.
Plus a valid email address. Please don't leave your email address in the comment section to avoid opening yourself up to spam.
One winner will be randomly selected.
All winners will be chosen on the

last

day(Friday) of the blog party. Notified by email.
Winner:

Congratulations Nicole J !
Join us over at Mommyfest 2008
and meet some new bloggers, enter contests and hear some speakers on a wide range of mom subjects.
If you haven't caught my audio with [tag]Marie Ynami[/tag] of Mommyfest.Click here.