Stuck on play ideas?
"Play is the work of children"
Fredrick Froebel
Maybe you're new to [tag]unplugged play[/tag] or else you want to try some of these activities but not sure where to start. Besides the [tag]weekly play-activities[/tag] newsletter, here's a book chock full of suggestions.
[tag]Bobbi Conner[/tag] also is the producer of [tag]The Parent's Journal [/tag]a podcast that features interviews from renowned authors and speakers in the area of [tag]child development[/tag]. Bobbi's down to earth interview technique ensures we get a glimpse into the lives of our children through articles, authors, suggestions and discussion from another perspective.
The blend of different speakers challenge our " One parenting style fits all" and I believe helps us develop our own unique style suitable to our particular child(ren). At a time when we're on a steep learning curve and families are developing.
Examples from this week's podcast
HAPPY TRANSITIONS AT PRESCHOOL!

Bobbi interviews Nancy Schulman and Ellen Birnbaum directors of the 92nd St Y Nursery School in Manhattan and co-authors of Practical Wisdom for Parents: Demystifying the Preschool Years.
THE JOYS OF MUSIC FOR BABIES, TODDLERS, PRESCHOOLERS

Dr. John Feierabend chats about the role music plays in the early stages of childhood. Dr. Feierabendis a professor of music, founder and director of the National Center for Music and Movement in the Early Years, and author of The First Steps in Music series of books, DVDs and CDs.
PARENTING A CHILD WITH SPECIAL NEEDS

Amy Baskin offers wisdom to help moms take better care of themselves while parenting a child with spedical needs. Ms. Baskin is the co-author of More than a Mom: Living a Full and Balanced Life When Your child Has Special Needs
THE WE-CAN! PROGRAM TO STOP CHILDHOOD OBESITY

Karen Donato chats about the goals and objectives of the "WeCan" program. Ms. Donato is the director of the We Can! Program of the National Institute of Health (www.wecan.org)

Well worth a listen.
Today's the final book giveaway of the week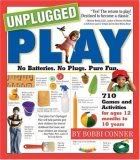 Unplugged Play: No Batteries. No Plugs. Pure Fun.
Simply leave a comment on my blog during the party on this post.
Plus a valid email address. Please don't leave your email address in the comment section to avoid opening yourself up to spam.
One winner will be randomly selected.
All winners will be chosen on the

last

day(Friday) of the blog party. Notified by email.
Winner:

Congratulations Michelle Rosborough!

Comments and giveaways closes 12am MST Today on each of the four books. Remember you can enter each contest.
Thanks for joining in with the fun this week.
Join us over at [tag]Mommyfest 2008
[/tag] and meet some new bloggers, enter contests and hear some speakers on a wide range of mom subjects.
If you haven't caught my audio with [tag]Marie Ynami[/tag] of Mommyfest.Click here.
Bobbi Conner's Play interview of the week