Operation Playtime Day 12 of 12: Heuristic play
The term Heuristic ( hewr-iss-tik ) Play is used to describe the activity of a toddler when he plays with objects.. This play is not a social activity as it is about how the toddler experiments with objects and the environment… It is also important that the attentive adult is always seated comfortably nearby to provide reassurance, a sense of safety and to share in the pleasure and amusement."

Developing Play for the Under 3s: The Treasure Basket and Heuristic Play

Anita M Hughes
Familiar forms of heuristic play: Rice tub, Treasure Basket or birdseed bath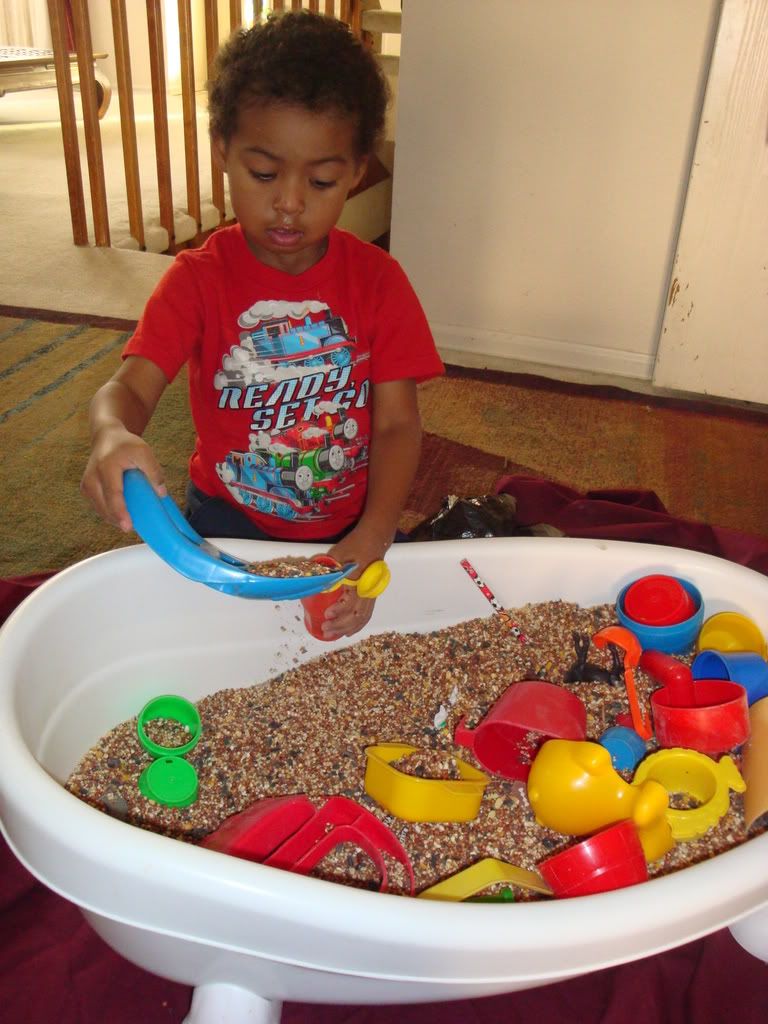 The MO chose a collection of objects from the sand tray. He was in a pouring and scooping mood. I sat infront of him with my camera and then book and let him play. He's 37 months and loves this type of play. I didn't encourage him to take out some of those objects . ( I was itching to do that- looks too full for me) Instead he directed his own play and since today was pouring and scooping having a lot of other objects didn't matter. When it did matter he'd move the object. No need for me to intervene. I was there to just watch out for his safety. He did talk to me and share what he was doing and tell me what he was holding.
How I see it?
With pretend play you act out a story or game etc.. and use natural objects. With Heuristic play you experiment with the environment using objects. The answers give you clues to how things work. The toddlers then apply that knowledge to other situations.
My son had ample practice pouring and scooping and whilst seeming boring to me he was refining his skill in a purposeful way.
Instead of only a sand pit try changing to a gravel pit outside.
We had an interesting time. Harder for me to let him play but be close without intervening. He was happy to potter around in the birdseed for 25 minutes. ( Bring a cushion) before declaring, " All done!"
Find out more about heuristic play
Treehuggermums
This is the last day of Operation Playtime 12 days of unplugged play. I hope you've had fun with your little one. I have enjoyed visiting the  #opt  ideas that you tried.  If you've not had a chance to visit and see how easy it is to start an unplugged habit; what are you waiting for?
We don't have to have plugged or unplugged play only. Balance your play activities. Here are 12 examples of the many more you can find here at the blog or in the emails. Let this be the start of your unplugged habit.
Put your thoughts in a blog post and use that link, not your blog, into Mr Linky. We want to go right to your post 🙂
And/or Add a comment here as well if you'd like.
Follow the other Operation Playtimers and comment on their #OPT post.
Hope to see you again.