Listen to this week's show
Podcast: Play in new window | Download
Subscribe: Google Podcasts | Stitcher
Stephanie Langford of Keeper of the home talks about keeping Christmas Simple and Meaningful with young children.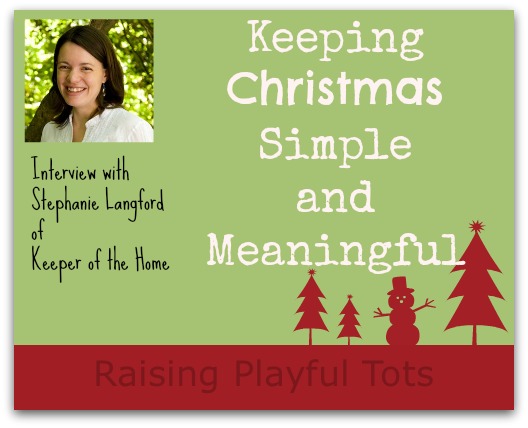 In this episode::
How we can keep Christmas simple with small children
Christmas lists
Stocking ideas
"Kids are actually happy with really simple things" @keeperhome  — Click to Tweet
Gifts and traditions that you know and your partner knows.
Love Language of gifts
Conversations around gifts
Other family members and their ideas around gifts
Setting limits and finding your position.
Choosing to approach Christmas differently depending on which side of the family.
Talking about how we're going to do Christmas each year as times change
Picking presents or making gifts how far in advance.
Clutter free gifts
Memories and experiences as gifts
"Remembering something you did with another person is the kind of memory that will stick with you "
 Via @keeperhome —–
Click to tweet
Keeping the Christ in Christmas
Advent and daily devotional plan
Christmas morning ideas
Giving and serving at Christmas
Focus on having a simpler Christmas
Deciding which things will NOT be part of your Christmas celebrations
What do you do when you don't feel like Christmas?
Perspectives on Christmas.
two actions you've taken in the last 2 years that have had a positive effect on your life?
What were you doing 12 years ago?
The favourite play activity in your household?
Links mentioned in the show::
Please let your Twitter followers know about this podcast- Click this link
New to Podcasts?
Watch this video from Chris Marquardf to learn how to subscribe to podcasts using your iPhone.

Search for Raising Playful Tots to get to our show
Now that you listened to this episode of Raising Playful Tots, here's what you could to do next:
Education is meaningless without action. So, tell me what you learned from this episode, and how you plan to apply it to your family in the comment section or via voicemail.
If you enjoyed this episode, do me a favor and share it on Twitter or Facebook. Or better yet, send a personal email to one of your friends whom you'd think would love this.
This part is important. I'm currently have only a few reviews on iTunes, and I need to get to 10 reviews. If you have a few seconds, can you please go to iTunes and leave me an honest review (after subscribing).
Thank you.