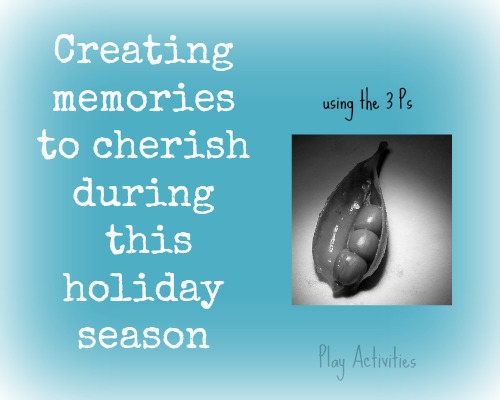 I don't know about you but with three boys both now in school there have been triple requests for many things. Then comes the holiday dos and obligations.
This time of year can feel like a giant merry-go-round that  you've ended up on and have to ride to the end of the month.
In previous years, I've not handled it very well. I see it coming and try and predict where to go but eventually I feel tired, overwhelmed and feel everyone else gets the benefit of the season but me.
Last year I knew this had to change partly because I had had enough but also because the youngest was going to start school and I really couldn't see things getting easier.
I had to ask myself, "Am I creating good memories to cherish during this season?" Or did the children pick up on the busy time and not get the chance to reflect and experience the season. I needed to be creating memories. I needed a new strategy and this year we are going for it.
Creating memories
As I mentioned yesterday in The Sunday Parenting Party, we're trying to use the 3 Ps this season; pause, protecting and providing.
Pause
Although it's crazy busy some days we are taking the time to pause. Our favourite activities are playdough, playing cards and small world play. They don't require a lot of set up or pull down and can be as long and short as we want.
As we're hustling from one event to another we look for something small to share. It might be the amazing cloud formations or the light reflecting on the icy puddle.
Seeing the beauty in the little things brings a calm and a stillness that's appreciated by us all.
Protecting
We're not going to a few holiday parties and saying no has been really difficult but so necessary. With so many opportunities it's easy to find yourself double booked or back to back events. I found that it was usually a few of the children and one ended up being dragged around.
Never fun.
We've made a commitment as a family this year to protect our time so we all enjoy the season. We're hoping it will mean less tantrums and tired children and more opportunities to experience the season.
Providing
We're pausing more and making time to stop and reflect but also to do activities together. We have lists and ideas. Jumping from one thing to another rather than feeling the burden to complete a timetable.
We're enjoying the Truth in the Tinsel activities and our advent calendar activities. With the dark nights we're wrapping up warm and looking at the stars. I mean really looking at the stars.
With the pauses it's so much easier to provide opportunities deliberately to connect, play and be together. We still need to play.
It's easy at this time of year to glide on through on auto pilot with activities, crafts and collapse at the end with an overwhelming amount of everything. Join me this season with introducing the 3Ps to your holiday season. Take it slow and choose a few things and enjoy the experience and memories.
Which one of the 3PS are you working on this holiday season?