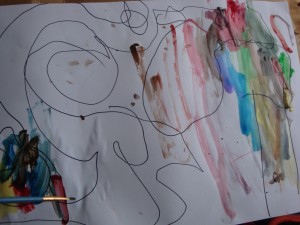 The LO is a little wild with the markers, meaning everything is a nice blank canvas including the table, walls and floor. Today we had fun with sharpies and he was so excited. We all, including big brothers, sat together and just experimented with the pen. The LO is beginning to get the feel of watercolour painting. I love how the sharpie work is all bendy and the painting is so straight up and down.
Love the lazy days of Easter. We got a little enthusasitic with our seed buying this year. We'll just have to see what happens this year. What are you planting?
Friday Finds is the place to unwind, grab yourself a comfy chair and reflect on your past week then plan for the upcoming one.
With a little something to make you think, for them to do and for us to listen or watch……. We are putting ideas into action. Challenging ourselves to do a little differently. Be inspired.
Enjoy your weekend!
Screen free week starts April 30 Find an activity near you :: Campaign for a Commercial-Free Childhood
Goodness for the mind:  Child's play 'not easy' after all :: BBC News
Activities for the body: when a child masters balance, it helps unlock the ability to sit still, focus, concentrate, and think! :: Moving Smart
Goodness for the ears: Encouraging Toddler Curiosity and Imagination :: The Parent's Journal – April 9, 2012-Susan Striker
This week on Raising Playful Tots podcast:: 93. Positive ways to get to play activities bypassing the grumps
If you enjoyed this article, get the Play Activities Newsletter. ( It's free!)