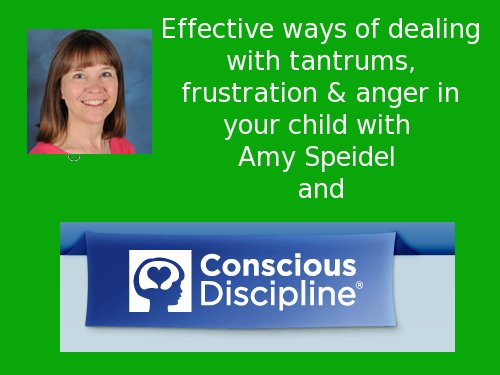 Nothing's worse than a temper tantrum or discipline issues around a play activity. We all end up frustrated, cross and really unlikely to want to do the activity. Play activities can all too easily be derailed by high emotions.
Today I'm talking to Amy Speidel of Conscious discipline about approaches to use to move us through this season of Early childhood learning.
We are teaching and learning through conflict situations so we can be about the business of play.
Listen::
Listen to this week's show
Podcast: Play in new window | Download
Subscribe: Google Podcasts | Stitcher
| subscribe through iTunes | on-the-go device
What we learn in this podcast::
What is conscious discipline?
 about brain based research and how it impacts discipline
 about coaching our children on what to do in the three states
Benefits of  using the technique S.T.A.R  to turn off the alarm system so we can problem solve.
an alternative approach to just "Time Out" to solve a problem.
What to do if they are watching a program and they don't want to turn off the TV
the truth about yelling, "Calm down".
Where to place our focus when disciplining.
How saying don't hit actually reinforces the hitting? and changing that!
Tips for "Inside voice" and Whining
Nine words that will limit whining!
…"this behaviour needs more skill …it needs more experience"
that children think in pictures  and why your home should change because of it
ways to curb our frustrations as parents during these high emotion times
Gas or Fire technique
…quick techniques and tips
teaching the need for control and our feelings like anger.
Links::
Wiring the brain for success : TEDTalk

Books to share with our children about emotions: Shubert series
Loving Guidance videos on Youtube.
Butterfly garden :: Sun Hats and Wellie boots
What we do with our children makes a difference
Here's What You Could  Do Next…
Now that you listened to this episode of Raising Playful Tots, here's what you could to do next:
Education is meaningless without action. So, tell me what you learned from this episode, and how you plan to apply it to your family in the comment section.
If you enjoyed this episode, do me a favor and share it on Twitter or Facebook. Or better yet, send a personal email to one of your friends whom you'd think would love this.
This part is important. I'm currently have only a few reviews on iTunes, and I need to get to 10 reviews. If you have a few seconds, can you please go to iTunes and leave me an honest review (after subscribing).
Thank you for listening and being a playmate!