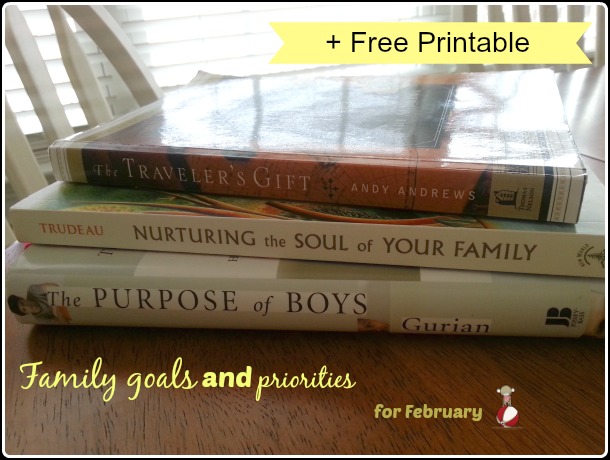 Although I love making goals I need some accountability in reaching them.
I'm sure I'm not alone there. Since I'm a big believer in scheduling things to get it done I'm also good at rescheduling and bumping myself of my own schedule. Just to be transparent. So in a bid to get more of the positive things I want and dream for the family started I've joined a new linky where we share our monthly goals.
Started is a better way ( instead of word of the year) for me in 2015. Many times I flesh out an entire project or idea and something happens and I can't see how it can fit anymore. The whole thing gets benched. But if I get started then there is a chance to continue. When I stop it's not a stop it is a pause. I can dive right back in. With this in mind, all the goals are things I want to do but most of all get started, keep going and be consistent. If I don't keep going I can circle back around and once I get past keeping going then the point is to remain consistent.
I don't have a hard time with this system although it might seem like a get out of jail free card. Our home life ebbs and flows depends on work, health, life and the kids. While there are some rigid things there's also plenty of flexibility. The problem is keeping account of where you deduct you time from when you're flexible.
I'm going to share two areas; family goals and personal goals.
I'd designed the Simple Parenting and Play Planner out of the need to have more of our family dreams and ideas a chance to actually come to light. So I'll sometimes share what I'm doing with my planner too.
Family goals
Here I'll talk about the children and as parents the parenting things we'll do.
Find a just right pillar candle for dinner. We had one before we moved but you can't take candles with you when you move overseas. I just noticed that it's missing from our dinner ritual.
Work with the kids for a better and more effective set up and clean up at dinner time. It's almost there but a few key parts are missed. I'm really looking for pride in doing a good job because we stopped to observe that it was complete, not that it was done perfectly. Many times I call the boys back for something because they got distracted and didn't finish. When I call them back and say, ' Can you see something that's not right?' they can. I want to see fewer call backs and them saying a mantra or doing something to do that final look over. So when I ask them that question they can say no. Done not perfect is what I think.
Read aloud before the bus in the morning:
The Island of Thieves   and complete this book by the end of the month and find a new one.
During our Family Roundtable: talk about family trips, places to see and things to do from the planner
Personal goals
Here I'll talk about things for me.
Birthday Rituals
February is a birthday month so there's the fun of the birthday rituals to plan.
Rituals that are simple, repeatable year on year and express love and family.
Be sure to check out more monthly goal setting
hosted by Mama Smiles, Multi Crafting Mummy, Kitchen Floor Crafts,
3 Dinosaurs, Something 2 Offer, and Play Activities.