We have a large pile of lost socks.
Lost because the pair is missing. We keep them in the hope that one day they will be reunited.
This is rare.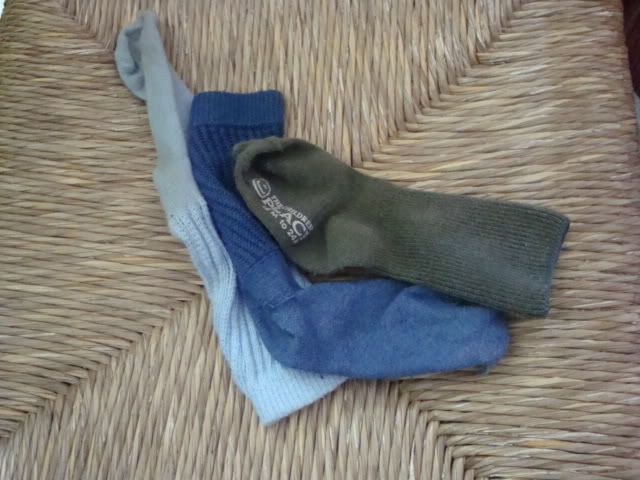 The boys love pretend play and regularly dress up and take over the world. I love overhearing their conversations. I like superheroes- I'm a mum of 3 boys so I need to like them right? but I like variety too.
As parents we're in a powerful place to direct and encourage meaningful play experiences. Our children take from the immediate environment around us. How much they take is related to what they are seeing and hearing regularly. My boys have just had Ricky Ricotta's Mighty Robot Collection (Books 1-4)
read to them so they talk , walk and build robots.
Well to redress the powerful robots I suggested a puppet show using the lost socks.
I don't sew well at all. Can put on buttons but that's it. The project was a lot of fun. They both chose socks, colours and I sewed.
We did have sticky eyes on but they keep falling off and we were all getting paranoid finding them with their little brother around. The BG decided we didn't need eyes anyway- because we can pretend……….said in that "duh mum" voice.
We've had lots of puppet shows with brother/brother and mum/son.
If you've not make a sock puppet- what are you waiting for…..The how -to is one of the activities in the weekly play email.
What we've experienced with our sock puppets?
Made up stories
changing our animal to another person
How to get your puppet to dance/dive and chase.
projecting our voice
presenting
taking turns
sustaining a theme/story
using voices, sound effects and props
Play is supposed to be fun and not perfect. The kids love whatever we do with them. It is intimidating to see crafters making amazing items but remember that your kids will love whatever you do for them.
We have a nice pile of lost socks…..think they'll become new sock puppets soon enough.
Other lost socks
Marytree:50 Singleton socks
Baby Sock or Multi Purpose Household Tool?