Sometimes you look at what you're children are doing and you get inspiration.
The middle one has been throwing to hit the high ceilings in the front of the house all winter. We dread balloons rising up there as we have no clue how we'll get them down short of waiting them out.
As an activity throwing is great. Releases energy and tension. It's hard to be grumpy or mad throwing…..try it. Well in our house it's rare to throw in anger….so far.
The biggest problem is though when you throw up with an aim in mind and it goes behind you and bounces off your brother…..things don't look so good.
Being 3 he tries really hard. Staring hard at where he's aiming but the follow through meant everyone else had more of a chance of catching or getting clocked by it than the original target.
We have some turtles. We threw them at each other and with a little coaching he's getting it more where he wants it…e.g. where he's looking and less random places but usually behind something that involves climbing on furniture.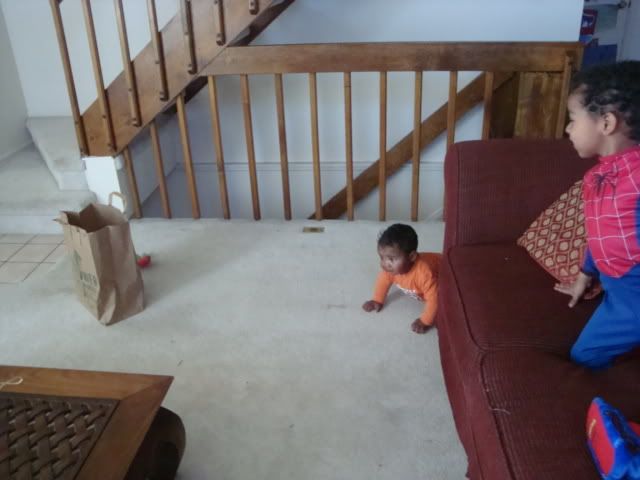 We  changed from throwing and catching to throwing into a paper bag. The good thing is we can move closer so it's harder for me and he can get it in more. The bad news is the bag kept falling over or crumbling which made for a frustrating time for the MO.
He soon adapted the game to a form of netball. He put the bag against the front door. We had to throw the turtle to hit the door and fall into the bag. Well he was the master of this game and soon I bowed out.
All in all a good time was had by all… We got to spend time together and work on a skill……..er both of us.
When did you last have ball skills inside? What do you do to keep it fun? Would love to hear.