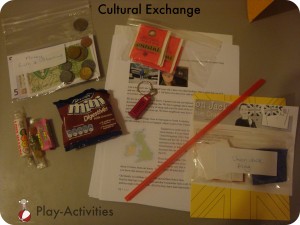 Melissa over at Chasing Cheerios mentioned a Cultural Exchange  just before the Summer. It sounded a great idea.
The idea was to send a package out that represented your country to a group of people. Melissa coordinated the whole thing. We were in a group of 6 people. 6 packages- how difficult would that be?
Naturally life gets busy during the summer. My husband was back after a year deployment so life was hectic. The kids also spent a large portion with Grandparents. I didn't want to send activities for them to do. Hanging out with the Grandparents was all that was required.
So September rolls around and back to school. Again super busy. The boys and I worked really  hard on finding UK things and what they wanted.
This is what we selected for our package. Each one was a little different.
ELC money in Euros and Sterling
Twining fruit Tea. (We're big fruit tea drinkers but we were thinking of the kids- no caffeine!)
Mini chocolate digestives ( I had to buy a second packet the first packets got…er..um eaten)
Love hearts and traditional sweets
keyring with a tourist attraction from the UK/London. Here we have the traditional phone box. Not many of these around.
Make a flag activity
Information pack about the K including recipes
Drawn picture of a Beefeater costume.
Imagine that duplicated 6 times. It was an interesting time at the post office sending these off.
Next the wait…….
So far we've received one from Arizonia and one from Japan.
The boys are beyond excited to open them up. We unpacked them at Dinnertime.
If you get the chance to participate in an exchange….do!
There are lots of physical swaps online. I spoke about the International Postcard Swap  on the podcast recently.
Have you participated in any swaps? Share the links below