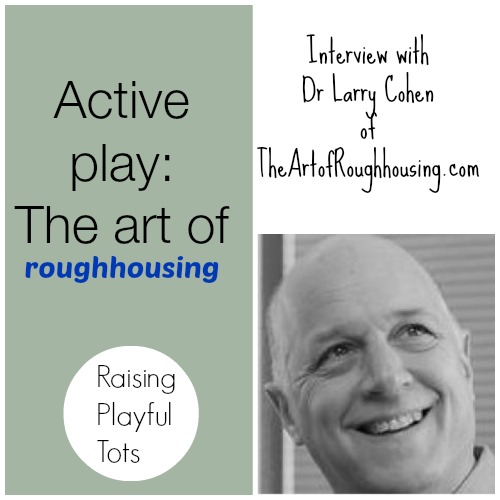 Are you a rowdy parent? Giggles, wrestling, rolling, swinging and chase part of what you do?
Physical play with our children has changed dramatically.
Today's guest is Dr Larry Cohen psychologist, consultant and author of the book The Art of Roughhousing

. We unpack many of the misunderstandings around roughhousing, learn a few new moves and discuss the changes that have happened in our society where no hitting and no touch has lead to parents being worried about roughhousing and rough and tumble play with their children.
It's one of those topics where you do what's best for your children and your family. I'm sure you have an opinion. Listen to the show and share your thoughts here or on Facebook
The art of roughhousing the website| Follow Dr Cohen on Twitter | Find them on Facebook
Listen::
Listen to this week's show
Podcast: Play in new window | Download
Subscribe: Google Podcasts
| subscribe through iTunes | on-the-go device
Show notes::
We learn
about the modern definition of roughhousing.
the importance of physical touch in development for the 2-5 year old.
about changing the way we tackle physical play and the labels we use.
girls,women, mothers and roughhousing plus fathers roughhousing girls
ideas and advice to help mother headed households without fathers present due to absence, work, deployment , temporary or otherwise etc
about bedtime roughhousing
what to do about the no hitting/no touching rule that's popular in settings
about the problems with tickling and I learn a better way of handing a problem.
how to approach sensitive children who don't like to be touched or overactive parents who push too much
Share::
If you enjoyed today's show please tell your friends.
Have your say::
"Like" us on Facebook
Join in with the topic of the week from the Podcast
Add an honest review on iTunes 🙂