The kitchen is a goldmine for play activities especially process play and sensory play ideas.
Janice Newell Bissex, is a registered dietitian and author of two healthy family cookbooks: No Whine with Dinner
and The Moms' Guide to Meal Makeovers: Improving the Way Your Family Eats, One Meal at a Time!

She  shares today ideas to encourage our use of everyday items commonly found in our pantries and cupboards to have fun playtime. Along with recipes and ways to get kids interested in the kitchen.
Janice is also a popular Consultant, Spokesperson, Speaker, and Food Blogger.She's also co-hosts a weekly radio podcast called, Cooking with the Moms.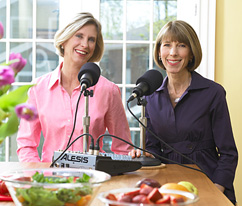 Follow Janice on Twitter | Facebook
Listen::
Listen to this week's show
Podcast: Play in new window | Download
Subscribe: Google Podcasts | Stitcher
| subscribe through iTunes | on-the-go device
Show notes::
We learn
ideal items from the kitchen to use for crafting and creative fun
fun ways parents can use the kitchen staples to have fun with their little ones
about the show Cooking with the moms
time crunch recipes, tips for picky eaters and more about No whine for dinner
Seasonal food makes excellent play food…….and Mickey Mouse ears!
Share::
If you enjoyed today's show please tell your friends.
Have your say::
"Like" us on Facebook
Join in with the topic of the week from the Podcast