Play Activities are about fun!
Today I'm combining the boys two true passions; food and play.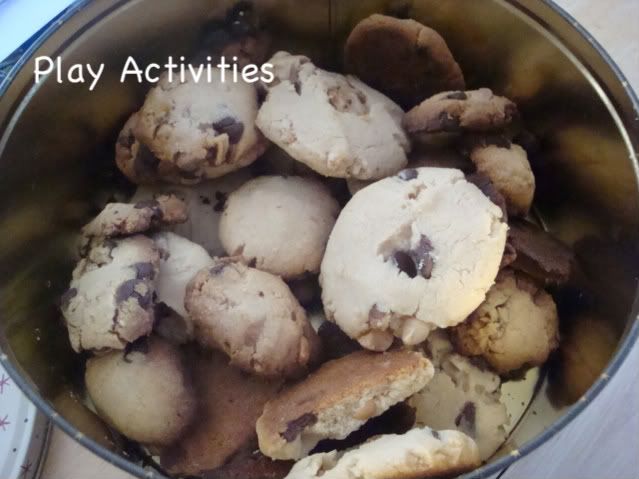 I have one who eats enormous meals and is very light on the snacks.
One who will feels snacks and milk are the better choice-always and OK if I have to eat a meal I will very slowly and whine all the way through.
One who is just happy to eat everything that is about if he can feed himself. He's been known to climb to get what he wants and wrappers are no test when you can bite a hole in it and squeeze the little something out!
About once a week we bake a cake or cookies.
Everyone gets involved with the weighing ( Yes we use scales!) We use those lovely cup scoops to pour into the bowl. The older boys get to collaborate together. It's funny how they learn to be a bit more understanding when they know the pay off!
The youngest gets to scoop and pour and the oldest gets to check the measure. Apart from that they swap out who does what.
What I love about cooking with the boys
They get so enthusiastic
They have so many fun ideas like can you add mint and raisins together in a cookie and if we make carrot cake can you have aubergine cake. ( Not tried any of those suggestions…..can't see how they would work) But their willingness to try and experiment makes me smile. I know one day I won't be able to distract them.
Most of the time they keep it together.
They do the cookie happy dance and peer into the oven to see if it is done yet.
They are learning about so many things without even realising it.
We have great conversations while we cook.
………….the clean up is amazing and huge but well worth it to me.
Cookies we're eating this week
85g Crunchy Peanut Butter
175g Soft Butter
175g Soft Brown Sugar
300g Self Raising Flour
2 tbsps of milk
85g Roasted peanuts (2/3 roughly chopped or any combination of seeds/craisins
175g Plain chocolate, roughly chopped.
180C/360F/GM4
Line 2 large baking sheets with non stick paper. Beat the PB.B and S until light and fluffy. ( use an electric whisk or processor)
Add the dry ingredients, stir in the flour and milk then the chopped nuts and chocolate. Bring the mixture together to make a dough
There'll be approximately 18.

Roughly shape into a ball by rolling the in palm of your hand. Space well apart to allow for spreading.
Flatten each cookie with a fork and sprinkle the remaining nuts.
Bake for about 12-15 minutes until cookies are pale and golden around the edges but still soft in the centre.
Cool for about 5 minutes before packing away.
Ours were crunchy this time instead of chewy. We made small ones and big ones for little hands and little snacks times……well that's the theory 🙂
What cookie recipes do you enjoy cooking with your kids from scratch?