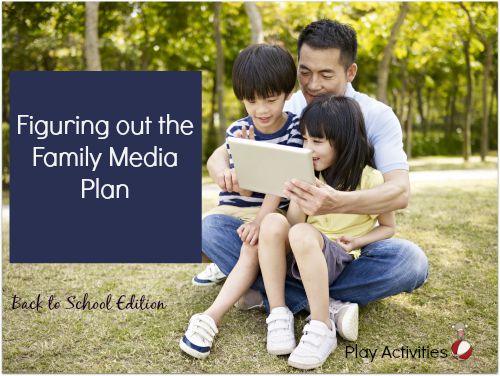 How we use media, screens and devices creeps up on many of us.
Devices multiply and soon there are a bunch of portable devices to manage.
Before going back to school I love to go back over what worked and what didn't work so well the previous school year. Doesn't have to be long or written but there are usually some lessons I don't want to repeat and a few I do want to encourage. I'm sure you feel the same way.
TV and Computer Games
We've had the plan as a family to have a streaming service and not a regular cable company. The boys have a profile and the parents have their profile.  Generally as a rule the TV isn't on by default. It's been an intentional decision from the beginning.  It's rare to have the TV on during the week, after school unless there is a purpose. It does happen but it is rare.
Computer games are shared usually strategic games and a few mindless ones and always in an area where we can see with a timer like this one. If we don't have a timer we totally lose track of time. Gaming usually happens on a Sunday.
Portable devices
So far no cell phones for the kids. It's coming but so far there's no need or pressure. I need to enforce better office hours for checking things online. It's hard for the boys to see the difference between me checking Pinterest for the dinner recipe or Evernote for booklist recommendation to whether I'm goofing off on Twitter or watching a video on Facebook. I need to get better with that.
iPods are popular in our home. As a big listener of podcasts for me and the boys of audiobooks I'd love to encourage more audio stories. We are mid way through Mattimeo and loving it. It's remembering that these portable devices aren't for solo use. Ditto the iPad. We've just started to explore the apps area and find more than just games.
School use
We were totally new to school websites carrying so much information for the children last year. So this year the boys are encouraged to check the website for homework, games, textbooks and notes.
With their own profiles on the computer the boys are learning to login, find and do without distraction. Did I mention that having a timer helps?
Watch and Eat
Something unusual that we love to do as a family maybe once a week is to watch something and eat altogether. It flies in the face of everything yet we're happy to show the flexibility and temperance we have for media.
So far we loving: How the States Got their shapes, Presidents ( We are trying to understand and learn this new place where we live) Cosmos, Planet Earth because we love stuff like that or the latest movie if it is family night. The conversations we have during and after keep this gathering as a vital part of what we do as a family.
These are some of our guidelines for the year. Like with all things we will modify them as we go along. We aim for these ideals and so far they've helped us stay productive and ensuring we all get a good night's sleep.
Try these questions to get you started

What ideas do you have for your family media plan this school year?