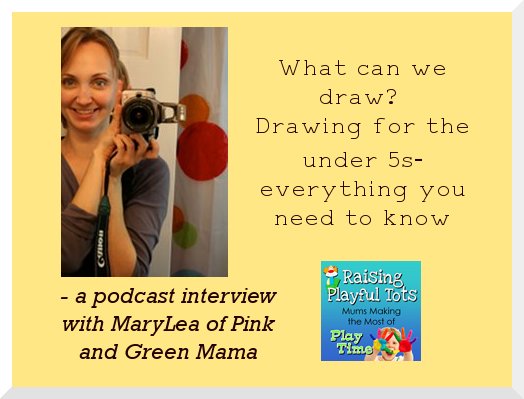 Kids draw but what to do if it's the same thing over again. Should I be worried? What type of drawing materials are good to start with a toddler. MaryLea of Pink and Green Mamma gives an art teachers perspective for parents to use. She shares activities, ideas and sound advice about drawing in the under 5 stage. MaryLea is quick to give lots of ideas so grab a pen and some paper 🙂
Listen::
Listen to this week's show
Podcast: Play in new window | Download
Subscribe: Google Podcasts | Stitcher
| subscribe through iTunes | on-the-go device
What we learn in this podcast::
Art experiences we could be trying with our under 5 year olds.
How to make drawing fun?
Interesting materials to consider drawing on
What happens if your son or daughter likes a particular character and wants to draw them constantly should we be worried
Ideas for when the kids want you to draw the same thing over and over again.
things every under 5 should experience using for drawing pleasure?
Drawing projects especially how to choose them by ages and stages.
Cookie cutter art- the ups and downs of it.
Finding a range of paper
Other combinations than pencil and paper for drawing
Links::
Black glue and water resist :: Pink and Green Mamma
Lesson plan ebooks :: Pink and Green Mamma
#12 There are no mistakes :: Past show
#38 Toddler art supplies  :: Past show
Come Sow with Me :: Play Activities
Here's What You Could Do Next…
Now that you listened to this episode of Raising Playful Tots, here's what you could to do next:
Education is meaningless without action. So, tell me what you learned from this episode, and how you plan to apply it to your family in the comment section.
If you enjoyed this episode, do me a favor and share it on Twitter or Facebook. Or better yet, send a personal email to one of your friends whom you'd think would love this.
This part is important. I'm currently have only a few reviews on iTunes, and I need to get to 10 reviews. If you have a few seconds, can you please go to iTunes and leave me an honest review (after subscribing).
Thank you for listening and being a playmate!