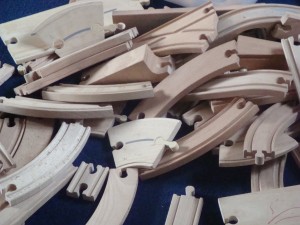 April showers; chilly  and warm. We've had all weathers this week.
Lots of puddle splashing and frequent changes of clothes. It's the perfect weather for getting outdoors.
We've accumulated so many tracks. But you can never find the piece you need. Three boys working on tracks side by side is priceless.
Friday Finds is the place to unwind, grab yourself a comfy chair and reflect on your past week then plan for the upcoming one.
With a little something to make you think, for them to do and for us to listen or watch……. We are putting ideas into action. Challenging ourselves to do a little differently. Be inspired.
Enjoy your weekend!
Goodness for the mind:  FLASH CARDS OR FINGER PAINTS: SHOULD ACADEMICS OR PLAY BE THE GOAL OF PRESCHOOL?
:: Imagination Soup
Activities for the body: Physical Activity Cube :: Little family fun
Goodness for the ears: Do You Have Family Meetings? :: Happiness Matters Podcast
This week on Raising Playful Tots podcast:: 94. What can we draw?
If you enjoyed this article, get the Play Activities Newsletter. ( It's free!)