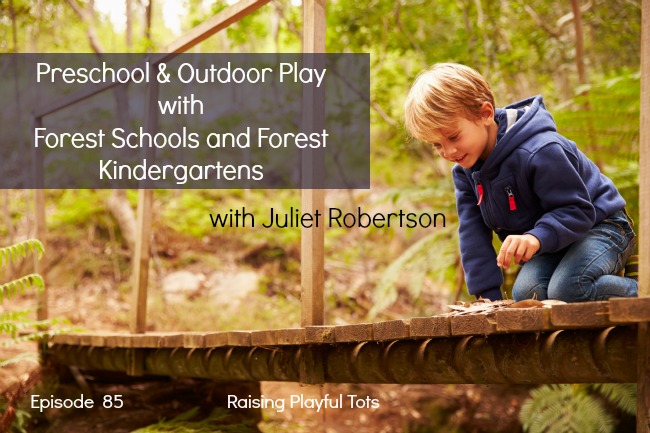 Is a Forest School or Forest Kindergarten right for my child? Today  Juliet Robertson of Creative Star Co. gives us the scoop on the benefits of Forest schools, Outdoor education and preschools who operate outdoors. This was a whole new world for us and we explore it together in this 63 minute podcast.
Visit Juliet's   twitter :: facebook :: website
Listen::
Listen to this week's show
Podcast: Play in new window | Download
Subscribe: Google Podcasts
| subscribe through iTunes | on-the-go device
Show notes::
We learn about
outdoor education
creating an early years woods
Ins and out of setting up an early years wood
How many is too many in a small wooded area?
Forest Kindergarten or Forest schools
Benefit of going to a Forest school
Outdoor preschools or nurseries and how it supports children's learning.
about clothing and shelter in winter
Stones vs LEGO
Multi-sensory activities encouraging different levels of thinking
St Paul's Nursery pilot project
Where would you find a good Forest School?   Try Facebook: Forest education initiative group
about the types of activities we would likely see in a Forest school or Kindergarten
Supervisory or assisting what's the practice of the adults there.
Developing a passion for the outdoors
Wasp drills 🙂
the type of child that's is likely to be suitable for a Forest school
Questions to ask in an indoor preschool about outdoor education.
about encouraging maths in the environment around them especially to and from school
about rain or shine nurseries
about examples of working Forest schools-Nature preschool walk in Seattle :: Sweedish outdoor preschool
Making things as safe as necessary……. 
Conscious Discipline: Shubert stories  :: Dr Bailey video :: 


Have your say::
"Like" us on Facebook
Join in with the topic of the week from the Podcast
Add an honest review on iTunes 🙂