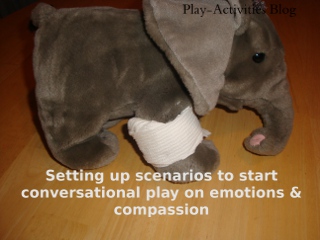 Toilet roll or bandage
Soft toy
Doctor kit ( optional)
Preparation: Carefully wrap up your soft toy so they look injured. Leave in an obvious place.
Set the scene using your surprised and concerned voice. ( Now's the time to overact!)
We played out a scene of looking after our stuffed animal. Through lots of questioning we got to change bandages, lie down and sleep. Our toy also had a few cuddles and lots of blankets. We got him a drink and he ate a pretend cake.
By setting up the scene and the LO arriving upon it. Plus the surprise in my voice lead us to have quite time of play.
Setting up scenarios to start a conversation and begin the conversation about complex ideas like emotions are really important with children. They get a chance to try different ideas not just from the media and they've seen but they have the chance to adapt ideas and bend the rules.
Getting in there with them as they pretend play to encourage their play without dominating may take some time to master. But is well worth it.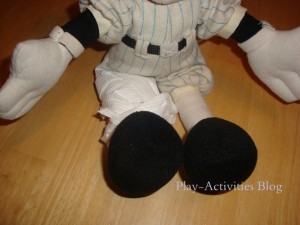 Children can get locked into a type of play they love. The BG used to love moving a train up and down one track. You would put together a track and he just used one end for the longest time. I would start a scenario close to him and share what was happening. He was soon over helping me in the scenario and eventually over time would include parts of it and others into his play.
Toys perfect for scenario play
Soft toys
Trains
Doll houses
accessories of a town or home
small animals, dinosaurs
Lego, stickle bricks or blocks
felt or plastic food
boxes, coffee or formula cans
What are your favourite objects for scenario play?