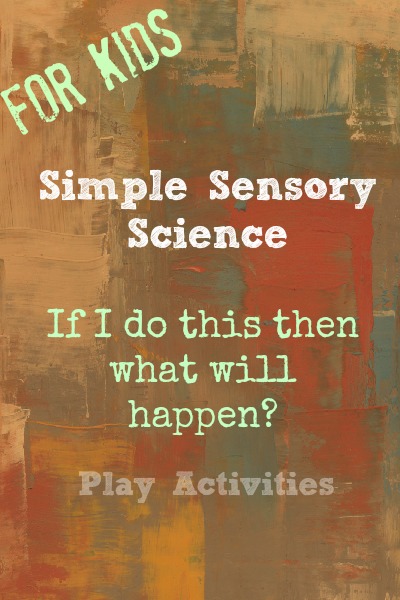 Welcome to Day Twenty One of 31 days of Sensory Play.
If I do this then what will happen?
As soon as they can children are doing exactly this…..seeking out solutions to the question. I watched a mom pick up a spoon for a baby. She's just learned that if she drops the spoon over the edge it would fall and make a loud noise. This little girl would squeal with delight. Mom would pick it up wipe it and give it back. Mom was feeding toddler sister at the same time. There were quite a few turns of this game. What made it interesting was we were in a cafe having lunch. Ordinarily at home it might be different but with all these people around this little girl was conducting experiments and learning.
It made me smile because I think we all remember those times. This mom handled it better than I did at that stage. Her daughter had fun for a while. I'm sure the moms in the room were smiling.
During this 31 day series we've explored lots of activities that encourage parents and children to work together in part or all of the project.
Today we're looking at simple science ideas to encourage creativity, thinking and conversation.
Simple Sensory Science
For more science activities pop on over to Science Sparks where Emma and Kerry share science to keep our children curious and creative.
We loved the downloadable magazine Action Pack and this issue of science activities. Learn more about what's inside.
This post contains affiliate links.
We've done a lot of different things but I realise we've not tried lots of science which is why we tried this issue of Action-Pack Magazine. The BG and MO both like science and experiments. They have books and have tried things themselves. The LO is the one who experiments on our furniture. We must do more science with him.
Your turn
Try a science experiment this week
Come back and share your experiences, stories and activity.  Share your post here in the comments or share your photo on Facebook
Find the other days in this series
Grab our badge