We play in the kitchen.
Welcome to the drums section of a very loud concert ( Can you hear me shouting that!)
or is it official taste tester of the new and improved LO sauce. Better than mummy's with the secret ingredient?
or is it just fun to take things out of cupboards and off tables and line them up in a row?
I think it's all three and more.
This post is part of Childhood 101 " We Play"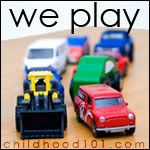 "Come over and play at the Childhood 101 We Play link up" and see the others.
We Play….
Mentioned in the Raising Playful Tots Podcast
Raising Playful Tots is an Internet radio or Podcast available 24hrs a day . Host: Melitsa Avila of Play Activities. Download each episode yourself visit each show notes to do this or have iTunes do this automatically for you.
Week 25th April 2010: Positive Parents with Sue Atkins. Sue is a Parenting coach and Author of Raising Happy Children for Dummies about being a positive parent.
Keep up to date with new show by signing up for the newsletter. When you sign up for the newsletter you get a free 11 page special report 10 ways to extend your child's play. New show on Wednesday!