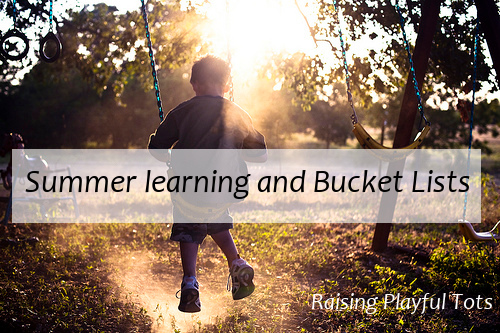 Welcome to show #100!
Wow! Can't believe we're at this milestone show already!
Thanks for stopping by today. In this episode,  Rachel Rudman  CEO of Grasshopper kits and Occupational Therapist shares her passion of learning through hands on play and talks about her preschool activities in a box; Grasshopper kits. Plus we talk about summer learning and bucket lists.
@grasshopperkits :: Twitter
Listen::
Listen to this week's show
Podcast: Play in new window | Download
Subscribe: Google Podcasts | Stitcher
| subscribe through iTunes | on-the-go device
What we learn in this podcast::
The beginnings of Grasshopper kits
The 4 kits and their skills
How a modern family uses the Grasshopper kit
Help for families with multiple children under 5
how should you set limits around educational programming for preschoolers.
Engagement and entertainment conundrum and ideas to try.
Two must do activities to counter the Summer slide.
Links::
Open ended play activities newsletter 
Raising Playful Tots newsletter surprise
14 Summer bucket lists to visit
Play activity of the week: Blocks and painter's tape :: Hands on : as we grow
Play webinar: Parenting simply
Speaking: Britmumslive 
Here's What You Could Do Next…
Now that you listened to this episode of Raising Playful Tots, here's what you could to do next:
Education is meaningless without action. So, tell me what you learned from this episode, and how you plan to apply it to your family in the comment section.
If you enjoyed this episode, do me a favor and share it on Twitter or Facebook. Or better yet, send a personal email to one of your friends whom you'd think would love this.
This part is important. I'm currently have only a few reviews on iTunes, and I need to get to 10 reviews. If you have a few seconds, can you please go to iTunes and leave me an honest review (after subscribing).
Thank you.