I received this in the mail. I thought it would be useful to share the response below.
Melody wrote in a question .
" ….My 3 year son doesn't really dress up or [tag]play[/tag] role playing games. I really noticed it when his friend Claire came around to play last week. He loves to push his little car up and down for hours though or his train. He doesn't interact or anything…. Claire wanted to [tag]dress up[/tag] and play but my son wasn't really interested…. Do you have any tips or [tag]activities [/tag]for encouraging more [tag]role playing[/tag]?"
Good question Melody.
Boys and girls often play differently and it's seems more obvious in the preschool years. Gender differences are very apparent. Read the fascinating book Boys and Girls learn differently or visit The Gurian institute for additional books and journal articles or try the controversial book Why Gender Matters. Each child is learning at a unique pace and regardless of gender introducing your kids to a variety of activities is an easy way for them to learn new skills.
[tag]Creative play[/tag], role playing or pretend play is an outlet all children should enjoy. It's a fundamental and a valuable skill to nurture early as it feeds into creativity, schooling and [tag]imagination[/tag].
At the beginning , my son who is particularly shy needed the stimulation and ideas to start an activity. He was much like how you describe your son. Then gradually he would take it and make it his own. Now, there is nothing stopping him. He has many ideas of his own that are original and many borrowed from [tag]playmate[/tag] friends, and what he sees around him.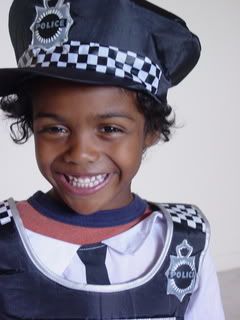 There are many ways of encouraging your children in playing role play games if they are not interested. These ideas might just kick start their creative side if they are lacking ideas or confidence or maybe you just fancy some new ideas of interacting yourself. Perhaps they are not ready yet.
The important point to remember is to let your child lead. Interact to start, if needed, but let them make decisions. Be prepared to step away and let their creativity explode. Loose your inhibitions and let's get creative!
Ideas for the [tag]dressing up box[/tag] or peg for boys -cowboys, policeman, pirate, doctor, vet, various bags so they can shop, wallets for their toy money.
Collect these from charity shops/Goodwill. Most major retailers carry a version with all the accessories. But kids value customized ones from home just as much. Daddy or Mummy's long white shirt/blouse is just as good for a Scientist/doctor/vet's coat as one bought from the shop.
Make your own toy money. Have your own family currency.
For more ideas see the next post. Still Stuck on pretend play
Looking for some more cute pretend play items try this blog entry.
*** What things have you notice that kick start your child's [tag]pretend play[/tag]?**************
***** What dress ups do you do or would recommend?***