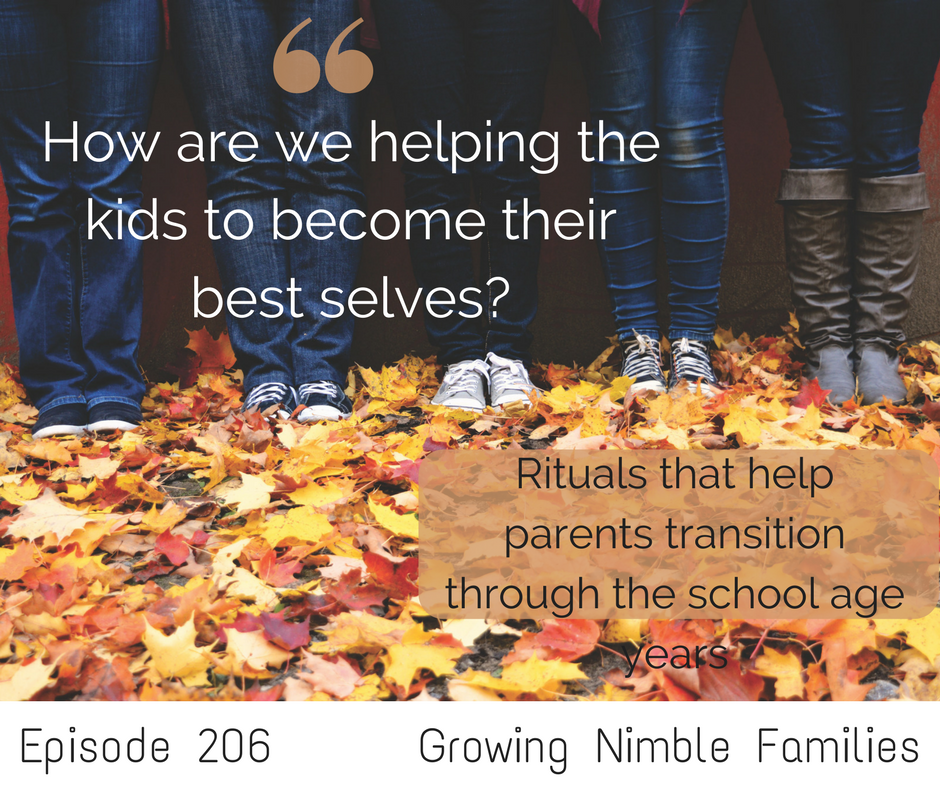 Podcast: Play in new window | Download
Subscribe: Google Podcasts | Stitcher
This episode we are looking for the good in the stage we are in.
We love to look back and remember fondly especially when times are tough in our current stage. If you've ever been stuck looking back and worrying about the future this is the episode for you to see how to move positively forward with your school age kid.
Rituals help us move along and enjoy the stage we are at. Being positive with the things we are doing and going to be doing helps us see our kids struggles and keeps us on track. We get them ready and we get ourselves ready for it.  Rituals help us with the transitions as parents move from little kid to bigger kid to teen.
Growing Nimble Families podcast encourages the celebration of school age kids traveling through middle childhood
Show Notes
00:00 Introduction
03:58  Positive ways of separating from our child and attaching in more mature ways
Letting go a little and reattaching in a completely different way
19:50 New framework for seeing their kid, child, tween, teen and young adult
Resources: 7 habits of Highly Effective Teens positive way to talk about the future, planning, goal setting.
Straight talk for kids  Peer to peer conversations for the kids on motivation, involvement, frustrations, how to get better results with your parents, homework and relationships like positive ways to deal with brother/sisters. It's another voice that says the same types of things you've likely been saying.
Pass It On: Building a Legacy of Faith for Your Children through Practical and Memorable Experiences Each grade level is covered with a special experience and passing of time activity. It's a chance to celebrate positively the passing of time that honours the journey of childhood for the kids and us.
Painless study techniques short chapters and good for elementary and lower middle/secondary children especially if you can read it together. 
The organized student Reading this book before your child transitions to that new school is a good reminder of different ways to organize sheets, work, homework, binders, backpacks and lockers for school.
Not all the ideas work for your child but when they have struggles you've got some new ideas to try. This is great especially when your child has different organizational strategies than you!
WHAT TO DO NEXT:
So you've listened to this episode – if you liked it and want to hear other ones – and I really think you will….you should do this right now:
   How to listen and subscribe to this show
I'd love to hear from you about the show.
Any comments about the podcast use the Voicemail
Use the hashtag #creatingfamilyhaven
If you've enjoyed the show please take the time to share it with friends and leave a review for it on iTunes or Stitcher.
**Pin and Share**