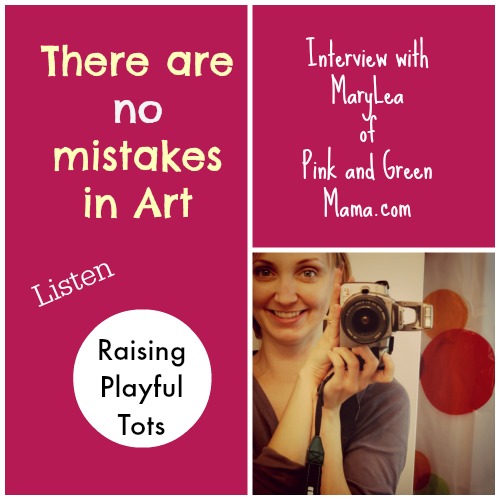 Today I'm joined by MaryLea of Pink and Green Mama. She's an art teacher who crafts at home with her two girls and shares to the world a huge variety of Art ideas.
Show me a child under 5 and what they truly want to be holding is a crayon or a marker.  MaryLea writes an inspirational blog celebrating the many faces of art. There are beginner activities for us novices out there, crafty activities as well as more complex ideas that you can see unfold through her step by step photographs.  Plus ones you are glad she thought to do because they look amazing and the kids think you're a superstar love them. With so many posts, I warn you that you can loose all track of time browsing her blog. MaryLea handpicks  her favourite posts to inspire your art work during this podcast.
Find out how to use Sharpies in art ,  the random art that happens off blog and a very funny story about how there are no mistakes in Art.
Enjoy the show!
Links mentioned
Georgia O'Keeffe |Painted Sea Shells |Valentine's Day Craft: Recycled Crayons "Color My World Valentines
NotimeforFlashcards:When we are apart
Play Activities: When mum's away what will the kids play?
What random acts of Art do you encourage at home?