I used corrugated card in green and red.
Draw and cut shapes in both colours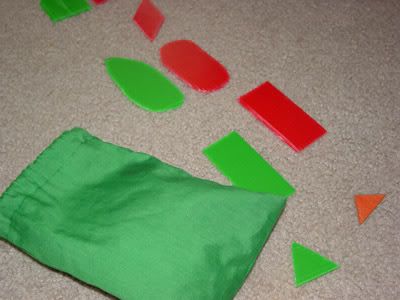 I used
Also added a few different sized triangles and circles. ( happened to have them)
What to do
Make the shapes earlier.
Put one colour set in a bag that you can't see into.
Keep the other colour set with you.
Hold up a shape. Name it. Reach into the bag and by touch alone try and locate it.
Pull it out. No matter if it's the wrong one. Compare the shapes and ask if they are the same and what the name is. Answer any questions they can't.
Put them side by side.
Variation: Find a bigger/smaller triangle
Let the kids be the caller and you dive into the bag sometimes. It's fun without having to be competitive. The kids also learn their shapes quickly. They don't need to learn the shapes. The idea is to have fun feeling in the bag and finding the same match. Hence why there's a pentagon and a hexagon.
The little bag fits nicely into a pocket, purse or handbag. Great for those times when you've got time on your hands waiting for the 'someone'. See my previous post for other ideas here.
This feely bag preschool play activity and other fun preschool play activities try our daily email of play activities see our sidebar for more information and to sign up.
*******What do you carry in your bag ?**********