Following Rachel's post on poems I thought I would share some of our favourite reads. Since I  spent my childhood and then trained in the UK I have a very Eurocentric view of poetry in my collection. Poetry is universal but you tend to stick to what you know right? So for some of you these authors will be a trip down memory lane and for some completely new. I loved poetry because it's so short and sweet. I liked to memorize them.
There are all type of poetry to choose from but I would encourage the rhyming poetry first. As they get older and develop a sense of humour then the silly poems that are almost jokes. They love how the words sound and play around with it. The MO really loves the tongue twisters right now.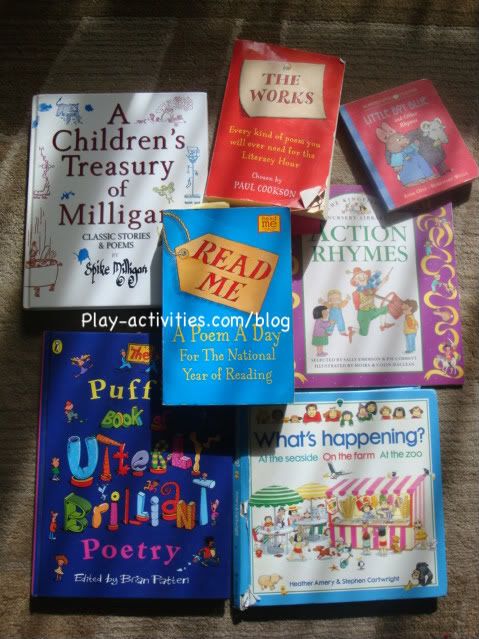 A few things in poems favour
you can read one quickly.
They usually have pictures
They can be very funny.
Full of language, history and folklore.
lift a mood with a nonsense rhyme
Great ways to encourage stories, writing, reading and talking.
Easy to learn by heart without even trying.
Little boy blue and other rhymes
Great board book so everyone can grab it. This book has lasted a very long time through quite a few pairs of our families hands. There are lots of pictures to help with the Nursery Rhymes making it easy for my preschooler to read the Rhymes himself. It's also small enough to have in the stroller to use if we're out. ( Always have a stash of books closeby when you're out- waiting is so much easier if you can pull out a book especially one with actions to get away the wiggles standing in line)
What's happening at the seaside, one the farm, at the zoo
Whatever the age books like this from Usborne are great. This is a compliation book of three paperbacks into one hardback.
On each double page there is a busy picture with lots of things going on. There are questions along the bottom to answer. The kids have fun finding new things to look at. There aren't too many things to look at so not so overwhelming to the preschoolers. Plenty of opportunity to make up things yourself to look up with your child. This isn't a poetry book but a favourite non fiction book.
The works is a collection of poems in different styles. Nursery rhymes, action verses, chants, modern rhymes, traditional stories told in rhyme, fables and parables, myths and legends, humorous verse, tongue twisters, puns and wordplay, shape poems, calligrams, concrete verse, Acrostic etc etc They make excellent read aloud poems because there are so many different types to choose from in one book. Not all will be suitable for the young ones but it's a great reference to see the range of poetry and brush up on ideas ourselves.
Read me is also a collection of poems but for everyday of the year. We like to read everyone in the families birthday poem.
December 27 Telling

One, two, three, four,

Telling Miss that Gary swore.

Five, six, seven, eight,

Now I haven't got a mate

Wendy Cope
It is interesting the conversations you can have afterwards.
Action Rhymes has 37 rhymes to get the kids moving and grooving. There are lots of pictures to give ideas what to do. There are examples of movements for us to learn so we can do the songs. Old favourites like… Here's the church and here is the steeple, open the doors and here are the people unusual ones like.. snail snail put out your horns and I'll give you bread and barley corns.
A Children's Treasury of Milligan is a long time favourite of mine. Full of silly verse and stories. Kids love the silliness.  Who doesn't remember, On the Ning Nang Nong where the cows go bong! or try Rain
Rain

There are holes in the sky

where the rain gets in,

But they're every so small

That's why rain is thin.
The Puffin book of utterly brilliant poetry– my current copy is nine years old so I hope it is still in print. There are poems from Spike Milligan ( see above), Kit Wright, Michael Rosen, Charles Causley, Roger McGough, Benjamin Zephaniah, Brian Pattern, Jackie Kay, John Agard, and Allan Ahlberg. Each section starts with an interview with the author. The questions are just like the ones the kids would ask themselves. You can find out what Michael Rosen would like to be if he wasn't a human being?
I have quite a few collections books with many different poets. I hope that in reading this wide range the kids will develop a taste for a variety of poetry. It's good to have definite likes and dislikes and form opinions. Mine, like most, have started with Nursery Rhymes but after they ' grow out' of these I hope they'll have latched onto something else. We can read a variety of books but poetry you can read so many more because they are so short and packed with some many goodies.
Poetry has always been a mood changer for me more than picture books ever could do. That's not to say there aren't sad or serious poems out there.
It is important for our kids to see the fun side of us; for us to laugh together; look and laugh at words and meanings; realise that reading is fun and lighthearted and not just HARD WORK.
Poetry gives you a chance to smile and laugh, and start some interesting conversations.
So these are my favourites………..
Who are your favourite children's poets or poetry collections? Please share your ideas in the comments.