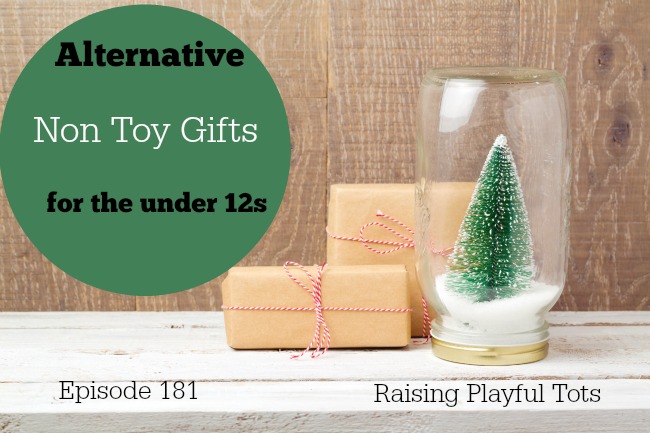 Podcast: Play in new window | Download
Subscribe: Google Podcasts | Stitcher
Choose a different type of gift this Christmas season by getting a non toy gift idea. A very welcome and different gift- a non toy gift isn't a new thing but certainly since toys have become so popular non toy gift ideas look like they have fallen out of favor.
Non toy gift ideas vary in price and size just like toys but their value often lasts all year around. Non toy gifts are often much more personal gifts than toys. After this episode I hope you get to mix up the gift giving and add in some non toy gift ideas this year!
During this episode we talk about
30+ ideas of non toy gifts for children under 12
Raising Playful Tots – the podcast for parents who want to make the most of their playtime and enjoy simple parenting
Click the play button above and let's get some ideas
Show notes
Last show: Gift Giving on Purpose: How to not get overrun with toys
I'd love to hear from you about the show.
Any comments about the podcast use the Voicemail
Use the hashtag #creatingfamilyhaven
WHAT TO DO NEXT:
So you've listened to this episode – if you liked it and want to hear other ones – and I really think you will….you should do this right now:
   How to listen and subscribe to this show
New to Podcasts?
If you've enjoyed the show please take the time to share it with friends and leave a review for it on iTunes or Stitcher.
**Pin and Share **