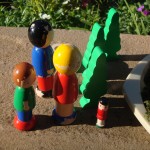 Since the interview with Caroline Webster of Small Fry Outdoors, we have been inspired to take more of our indoor activities outside in our quest to play outdoors. The boys love to pretend play and it is encouraging that Superhero play isn't the only play we do and especially if you have lots of other characters about. This is our newest family members to our play characters box.
With the weather being so nice and the collection of natural items we keep collecting on our walks we decided to make a miniture garden for our new family. This whole thing was an idea we had together. The boys wanted to build a garden for them and I felt having a portable one would be better for us and a more realistic target.
How to make a miniature garden
Use a tray, shallow baking tray or any item with sides to contain soil.
Collect lots of ingredients to make the garden such as soil, rocks, moss, twigs, dried flowers. Be inspired by the season and your imagination from your garden. We found it best to heap the items in piles around the plate to help inspire us.
Plan your garden using the resources you have available.
Getting Started and Assembling a Miniature Garden
Cover the table with newspaper
Decorating Your Miniature Garden Imaginatively
Add your washing line by using two twigs and some thread. Wind the thread around the twigs. Cut out clothes from a magazine and glue or tape to the line.
Push each twig into play-dough that affixes to the tray. Cover the play-dough.
Add people to your garden and let the imagination begin.
Miniature gardens bring a little of the outdoors indoor and provide an ideal play starter or activity to use with imaginary play and story telling.