Do you find that your preschooler is reluctant to use a pencil to write? Sometimes we have to take a step backwards and enjoy the fun of writing and playing with writing before we get to the more serious writing with a pencil.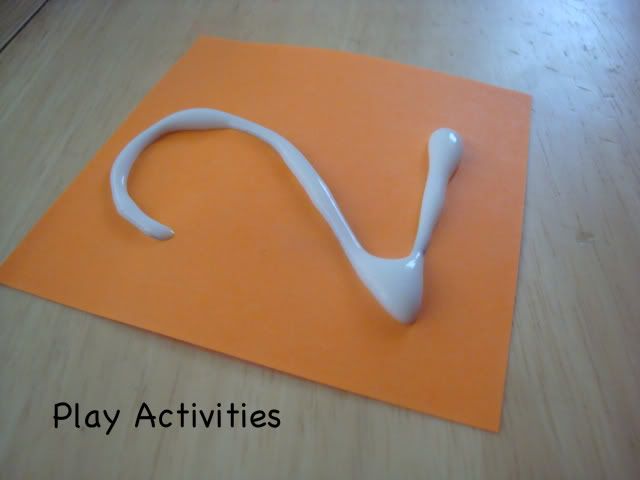 I have boys and considering recent evidence about how boys writing  lags behind girls I wanted to share what fun we've been having with writing. Writing has to be fun for the preschooler or many will just give up. The skills needed to master holding the pencil correctly, angle of the pencil and paper, sitting position then one to one correspondence of looking at the shape then making that same shape on the paper in front I liken to a marathon. It's not a sprint so why did I think that at 3 I could put paper and pencil in front of my 3 year old and expect with a few pointers that they would soon get the hang of it.
Training for the marathon
1. Give them plenty of opportunities to mark make. Notice mark make and not draw or write. That's for us. It opens up the material and the instrument to use rather than narrowing it all down.
2. Start them young with mark making. This is not to say we expect drilling, intensive lessons or trying to get children to be working before their appropriate age. Instead, let them have experiences of making marks from as soon as they can sit up.
3. Change the materials you use for mark making. Mark making isn't about pen/pencil and paper. Show them by using different activities so they love the fun of the activity.
Hitting the wall
Not that I have any experience, I hear that there is a point when long distance running where you feel like you can't go on and you have to dig deeper to push through it and finish. Those reserves would come from knowing you can do it because you've practiced and run many times. You've had good experiences and know you can do it. You can find it because you've found it before.
The same with the preschooler.
When mastering this new and complicated skill of writing they will hit a wall. Having had good experiences and fun playful experiences maybe what gets them through to persevering with the task rather than giving up.   Once they've dug their heels in and decided they can't write or it's too hard it's pretty difficult to get them going again. There's got to be fun in it. Some children may need more fun than others.
Don't be discouraged
You have dot to dot books, trace the letter sheets, ergonomic pencils and paper but your preschooler isn't interested in writing for any length of time. Don't give up. Take a step back and allow them to play with writing and have fun with it.
Putting it another way. I love reading and regularly have a few books on the go. A few that challenge my mind; some that are an easy read and one that is fluff. Fluff isn't a waste of time for me. It's a bit of fun and makes me feel good. Good emotions encourage me to tackle the harder things.
When preschoolers are learning to write don't forget the 'easy read and the fluff'. It gets them through some days and encourages them to persevere with the writing when it's not fun and they hit that wall.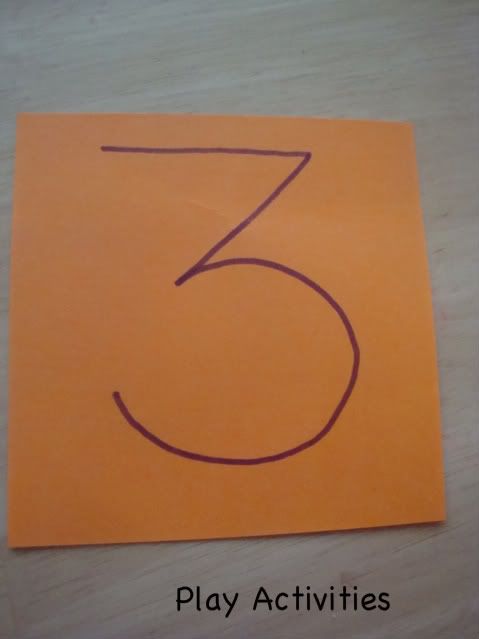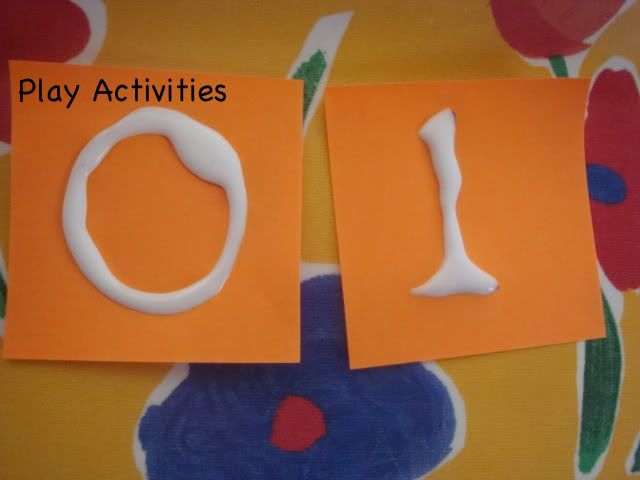 Writing with glue is one easy and fun way we play with writing and letter formation. I wrote about letters and glue before. Today we looked a numbers and glue. We were counting things and  had to write a birthday card where a friend was 4. The MO likes numbers because .."..they aren't long." He's also working on letters in his name not in random order. So his fun right now is numbers because he can do lots or a little and they stand by themselves. ( I guess, what he's saying is I can't try and make him write words- like his name) 🙂
Last time we used cardboard.
Today we used post it notes.
The post its didn't stick for long. I was hoping to stick them somewhere to take down as we needed them. Maybe it was the quality of the post it ( generic brand I used) or the weight of the glue on the paper? Who knows? Also as they are drying they lift up ( They are post its) so take care that the glue doesn't run. We keep them in an envelope now. Having them individually like this will lead to lots of games and fun with numbers. Theses dried clear and you could see the number I had drawn through in marker pen. An alternative is for them to colour on top of the glue, once dry.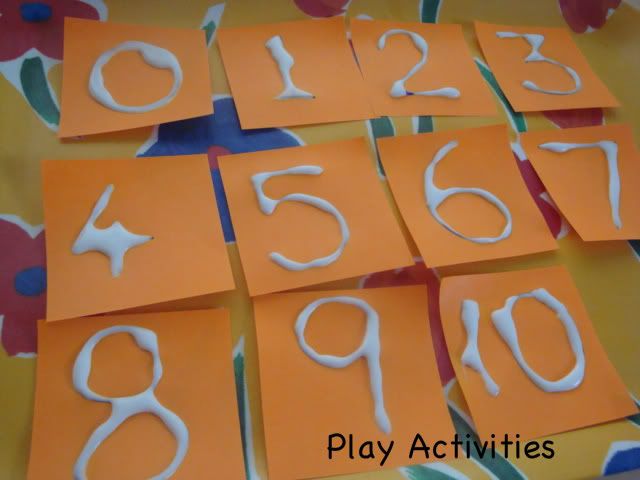 As always the glue squirting was a big hit. As was the tracing of the dried glue. He'll pick the glue numbers and play with the numbers. He traces his letters. Without me sticking it in front of him to do.
Learning and fun go together.
We just have to find ways of doing that for our child in a way that motivates and works for them.