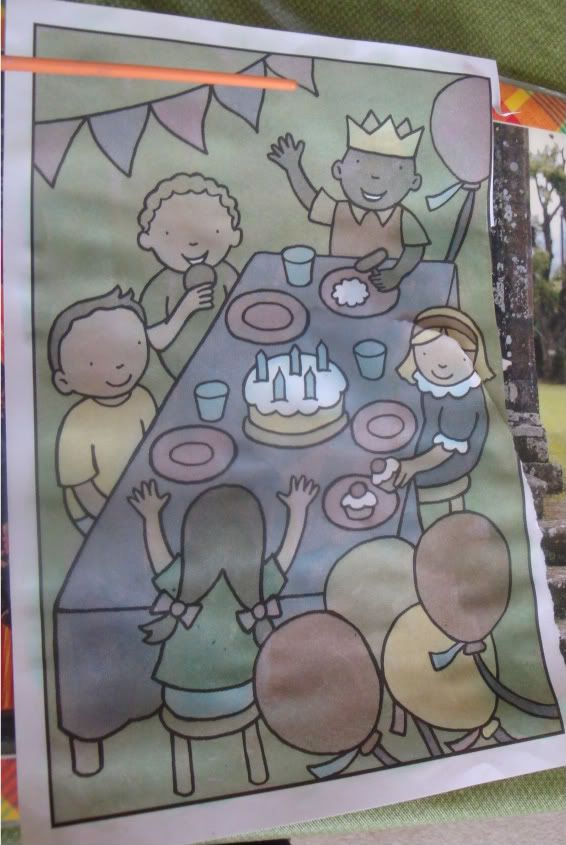 When you ask your child, " How was your day?" We don't always get the type of [tag]conversation[/tag] we bargained on. This type of direct conversation certainly doesn't seem to work with mine, for sure. However if we're doing a side by side activity together or next to each other we seem to get a better result. Maybe it's boys? ( Any girl mums care to comment?)
Don't overlook the small stuff
We have quite a few [tag]magic paint books[/tag]. You need just water and a paintbrush. The paint appears on the page. You do have to be careful not to overwet otherwise the colours will run. In general we've had a lot of beginner exploratory fun with paint books like this for the baby and toddler….even on an airplane. But that is a whole other story.
At one time we had so many of the books and the older boys grew out of it so I put them up. Now this last week I got them out for the baby/toddler to try some mark making fun.
Life got busy and the two older boys asked if they could do one after flipping through the book.
While I did some work on the table they both worked at their picture
Don't always follow your instincts
My initial reaction was to say I'll get the other paints out or you're too old. But it was there and I was time pushed so hey. Why not!  It would be fun. My biggest concern was it would take  one minute to do because they have the fine motor skills and well for them it's just easy peasy lemon squeezy.
Also the trend is to go higher and not lower. Was I dumbing down their learning by letting them do something so easy! OK so that's the first 20 seconds of thought.
In my hesitation, they let me know they would handle it all. Getting the paintbrush, water cup, newspaper, scissors etc. Each brother backed up the other. "I'll get the water because I'm bigger." "I know where the newspaper is and I'll put it away this time."  Nothing wrong with their persuasive skills. I hope in 10 years time it is still there for their essays lol.:) I agreed on the fly.
I'm glad I did.
What happened?
I must admit I didn't complete the work entirely that I was doing.
I did have interesting discussion for 20 minutes or so with my boys.
Each talked about the picture and things they painted seemed to trigger another story or something they had to tell me. Maybe it was the subject of one of them- a birthday party! I don't know but all my misgivings about this simple paint activity slipped away. They talked about school, friends, and asked those way out questions you can only get from kids.
Photo books are another way to do this activity. There is a contest over at Raising Playful Tots with Books by Tara. I interviewed her about her photo books and had a chance to use these at home, thanks to Tara.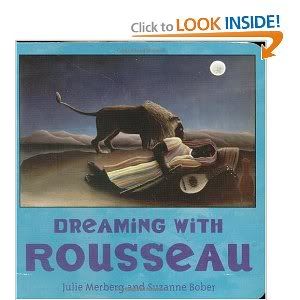 Dreaming with Rousseau (Mini Masters)
These art books are also another great way to stimulate discussion and conversation.
Discussion and meaningful conversation happens in many ways in a family. I'm so happy to have found a few other [tag]discussion starters[/tag] that work with my family.
This post contains affiliate links please see my disclosure page