Ever picked your own [tag]vegetables[/tag]?
We did.
We went to Miller [tag]farm[/tag] to pick vegetables this week.
I never realised that [tag]picking vegetables[/tag] could be so much fun. I picked fruit regularly when I was younger, but never thought to go vegetable picking.
The [tag]kids[/tag] were enthusiastic from the ride on a [tag]tractor[/tag] trailer full of bales.
There were two other family groups on the tractor we were on. Only one group had been before and they were very organised in how many bags and what to get. We just followed them. I guess they were thinking of[tag] canning [/tag] and [tag]freezing[/tag].
We chugged around together and at each stop we all jumped off and picked vegetables until our bags were full; the sun too hot or the kids complained- whichever came soonest.
The 'tractor man' as my big guy called him would go further off into the fields and come back with more produce or bigger produce for us. He was always greeted by a big enthusiastic "WOW!" from all of us.
First stop.. the potatoes.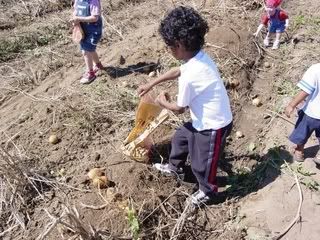 Seeing them pulled up by the tractor- another machine created the wow factor in all the kids there. Once they recovered they ran around and picked up as many potatoes as they could stuff in their bag. You'd think candy had been dropped on the floor ,the excitement.
We picked tomatoes, peppers ( some hot Jalapenoes some green peppers), red and white onions, squash, corn and carrots.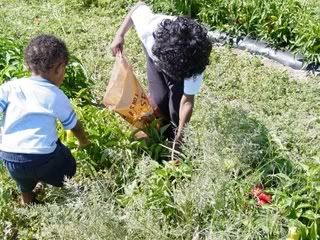 There were beets and other vegetables but I was already thinking about what I was going to do with the 8 bags of vegetables I already had…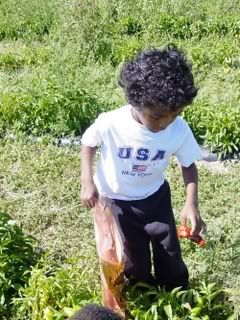 Those little red kid trailers were great for hauling all the veg back to the car.
We went with a [tag]playgroup[/tag] [tag]day trip[/tag] so had the group discount rate but the price was very reasonable for all the veggies we picked.
At the farm there are other distractions just for the kids. A big bale pyramid , bouncy castles, swings, a parked VW Beetle ( big hit with my boys) not to mention covered seating, a farm shop and washing facilities.
Through the 90 degree heat, dust and unexpected bogs of water, my little guy tripping over giant-well to him- onions and getting lost in the forest of corn we left tired, loaded with vegetables and very mucky but strangely happy at our achievement. We harvested vegetables that we'll eat.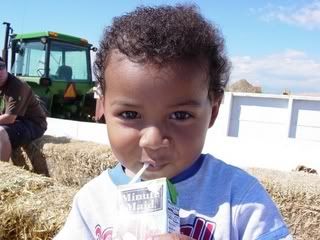 The best thing was hearing my son recount the experience; all the vegetables he picked and how they grew. He spoke so fast and had so much to say at the dinner table.
He insisted we cook corn that evening. He peeled the corn himself. I cooked it and he served his dad the ( read: special corn he held all the way home) corn he had picked. He was so proud. Explaining how it was white before and now it's yellow because it was cooked.
Both boys ate all their veggies that night.
*******Any ideas on what I can do with all this produce?***
………Squash muffins sounded so nice when Jamie Oliver described them on Women's hour. The recipe sounds so good.