Listen to this week's show
Podcast: Play in new window | Download
Subscribe: Google Podcasts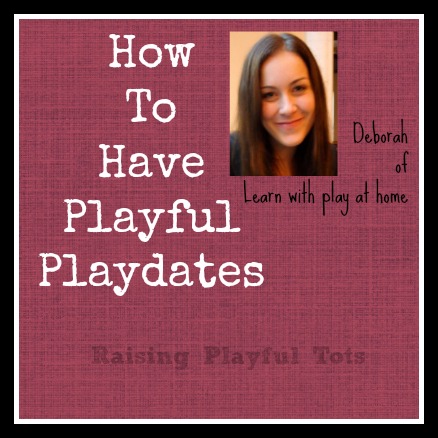 Deborah #1 in the Top 25 of teacher mom blogs;  an Australian Primary School Teacher currently on family leave with her preschool aged daughter and 12 month old son. She is loving staying at home and playing with the kids while also following her passions for sharing, creating, writing and learning. These things all come together at her play-based learning blog, Learn with Play at home. www.learnwithplayathome.com
 In this episode::
How do you organize playdates?
Home playdates
What does a playdate look like?
Structured and unstructured playdate
Daily playdates? weekly playdates?
An ideal playdate would be…..?
"The very best playdate-take them to a park and let them run" @Learn_with_Play  — Click to Tweet
playdates whatever the weather
Burning energy get them moving
Free play on a playdate
Invitations to play
List of playdate activities that work
" Talk to your child about something before it happens is a good thing" @Learn_with_Play — Click to tweet
Stations and invitations to play
The joys of a  Sticky Easel
How do you deal with squabbles at a playdate?
 Reminders for other times
Toy recommendations for playdates
Do you need commercial toys?
two actions you've taken in the last 2 years that have had a positive effect on your life?
What were you doing 12 years ago?
The favourite play activity in your household?
Links::
Please let your Twitter followers know about this podcast- Click this link
New to Podcasts?
Watch this video from Chris Marquardf to learn how to subscribe to podcasts using your iPhone.

Search for Raising Playful Tots to get to our show
Now that you listened to this episode of Raising Playful Tots, here's what you could to do next:
Education is meaningless without action. So, tell me what you learned from this episode, and how you plan to apply it to your family in the comment section or via voicemail.
If you enjoyed this episode, do me a favor and share it on Twitter or Facebook. Or better yet, send a personal email to one of your friends whom you'd think would love this.
This part is important. I'm currently have only a few reviews on iTunes, and I need to get to 10 reviews. If you have a few seconds, can you please go to iTunes and leave me an honest review (after subscribing).
Thank you.