Yesterday you saw a photograph of my glasses and hail for Wordless Wednesday. Today on Tell me Thursday I tell you the story behind this bizarre picture.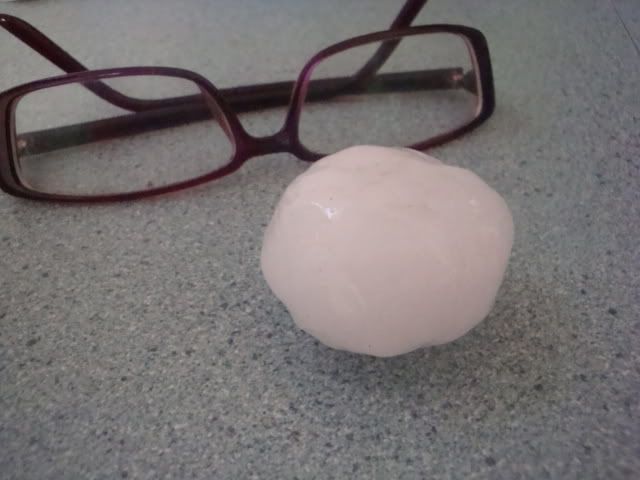 …..yes hail!
We live in Colorado and boy have we been experiencing [tag]Tornado[/tag] weather. The closest I had come to a Tornado was "[tag]Twister[/tag]" the movie before. But after a Sunday stroll to our local indoor Farmer's market we heard sirens we'd never heard before.
The bagger was talking about flying dogs ( I guess a reference to the above film and flying cows) and he thought maybe  he should go home and put his dog in then. People started migrating towards the windows and pointing. Like good little sheep we did too to see what they were all looking at.
Wow! a twister/tornado [tag]funnel cloud[/tag] was dropping out of the sky and moving. It was amazing to watch from the comfort of the farmer's market with 100s of others. Once we snapped out of the general awe about what we could see; a funnel cloud getting smaller, bigger, moving etc we realized it was in our general home direction but really couldn't be sure.
Anyway long exiting story short- Got the kids in the car and tried to make it home. Stopped with the other cars when we could see flying debris ahead. Watched as the tornado disappeared over the hill…the other way, thankfully. 
Three minutes later my husband remarked, "Where's the hail?"There's always hail" Funny look from me <really?> "They had HUGE [tag]hail[/tag] in Twister." Hail started to fall.
It was one of those moments.
I looked at him. He looked at me. It should have been great comic timing but those things were loud and well….scary for us the Tornado virgins with kids to pacify in the back.
We got inside buzzing from our experience. Hail still falling and checked the news- which said something like GO to the Basement( why are you reading this message- just kidding). Eerie sirens going off—-Was it wartime!
I snapped this picture to remind us and tell our story to family. This was Day 1 or what turned out to be ten days of tornado funnel clouds spotting in [tag]Colorado[/tag].
Unusual weather of Colorado. The downside is everytime we go from blue skies to thunderclouds all the boys immediately panic looking for funnel clouds. They've had a few tornado alerts + sirens at school too so  they get a bit hysterical about the whole thing.
So our neighbourhood is littered with signs advertising roof companies. We are all getting new roofs and taking our cars to the body shop to get rid of dents caused by hail. 
From what I can tell no fatalities just property damage.
Thunderstorms will never been the same for a while at least.
Please visit Tell me Thursday to find other partipants telling you the story behind their Wordless Wednesday post.