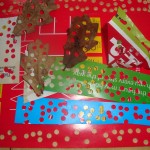 You can have amazing conversations when you're doing something as mundane as hole punching scrap paper!
This play activity is great to encourage communication and concentration. The MO was very excited to try out the hole punch. We had both the one punch and the two punch. The two punch was much easier to use because of the lever.
The MO and the BG  were very keen to line up the circles into rows. I would have loved to have used the computer paper with the perforated edges. If you have these dig them out.
All the children spent a happy time painting and investigating what they could do with paper filled with holes.
What hand on activities do your children enjoy?