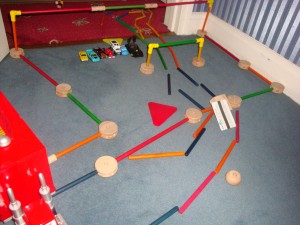 The hardest time is the gap between saying, "Go find something to do!" and them finding something to do. I don't know about you but I'm so tempted to talk more and direct them.
We try and have unstructured downtime everyday. Not just  now, some random filling in time but planned to give a decent length of time to allow for creating ( and putting away or to the side).
This fine creation happened this week. I love the creativity of using the Fiddlestix
and he played for a long while refining and building his racetrack.
I too had to find something to do and it worked. I said nothing.
___________________
Friday Finds is the place to unwind, grab yourself a comfy chair and reflect on your past week then plan for the upcoming one. With a little something to make you think, for them to do and for us to listen or watch……. We are putting ideas into action. Challenging ourselves to do a little differently. Be inspired.
Link up your posts  that fit one of these categories.
Enjoy your weekend!
Goodness for the mind: Raising Successful Children :: NYTimes.com
Activities for the body: Over and Out!: 2 Great Obstacle Courses :: Education.com
Goodness for the eyes and ears: Why Duct Tape Parenting? What's in a Name :: Parenting on Track
This week on Raising Playful Tots podcast::  Back to school for 5 year olds and under
If you enjoyed this article, get the Play Activities Newsletter. ( It's free!)