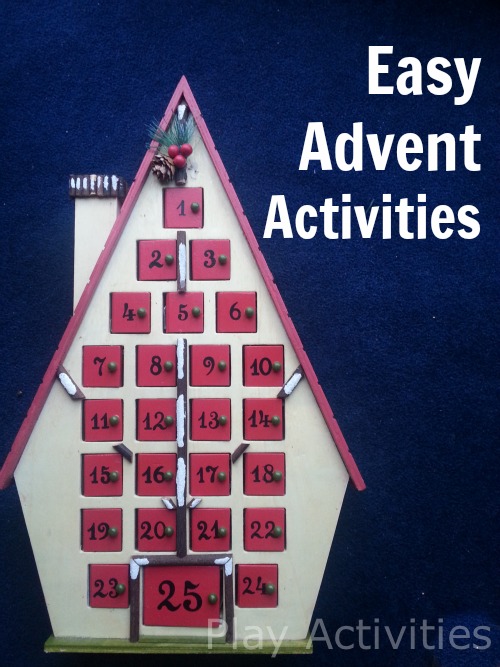 We love our advent calendar.
Each year it has pride of place and the children eagerly wait to open a draw. With three children we have three different Advent calenders. To further complicate it the children rotate, their idea, of course, so no one advent calendar belongs to them.
Although we clearly bought the Nativity for the BG and the House for the MO and the last boxed one for the LO. They don't see that.
Each advent calendar was chosen to grow with each child or be a classic piece. Although I do wonder what will happen when they have families of their own?
Inside each draw we have something special to find.
The house tells the traditional Christmas story rolled up on little pieces of paper. Unrolling it like a scroll- an unintentional, but we'll take it, a side effect of a small hole. It's like an unveiling.
The Nativity is our traditional classic and it never fails to amuse as we have flying camels and stars inside the stable. There's always much rearranging of the scene by all the boys at different times. Imagination at its best.
The boxes is now our activity advent calendar. We have a bunch of activities, although due to a fall last year we're sadly lacking in activities in some of the boxes this year, I notice. Since we're all about easy advent activities.
Being a busy time of year and now with three children in school finding time to do all the things we'd like to do means we have to pick and choose carefully during the Christmas season.
Primarily we cook and bake more and give these things away as gifts. It's a service project the boys get into and it's easily accepted. There's no pressure to look all beautiful and perfect as the boys present them and what 9,7 and 4 year old boy would do that? We do try and make it look nice but this belongs to the kids. They get to be creative and it's less about perfection.
Yesterday we were so behind on our advent calendar we had 4 days to do one night. Those nights the kids love. We sit together and read, talk and do for a long time.
We may not get to all our advent activities but there's no shortage of play activities related to advent we can do now. Not many cries of, "I don't know what to do?"
They go find something from the advent calendar.
With school productions and nativities to practice, we sing a lot in the evenings together. Hunched around the piano we play some of the familiar tunes, easy version, often one handed  ( The BG is learning piano) or we acappella it to the modern versions they need to learn for school.  There's something sweet and lovely about young voices singing.
We recorded a few this year. Nothing is sweeter than hearing your child sing.
Whatever you do during the run up to Christmas take a step back and enjoy the season and time with your children. It doesn't need to be big, grand or perfect. Just hearing your 4 year olds version of Away in a Manger with words mix- muddled but perfectly in tune, or the stillness of the anticipation of which animal is behind the door or perhaps a memory of years gone by and the anticipation of the favouirte activities. These are the things to cling to.
Here's one of our list of  easy Advent activities ( It changes as some are lost, discarded or changed) Nothing here to take a long time but should provide a time to be together, smile and produce lots of good memories.
make snowflakes out of paper. Scent with Christmas scents in a plastic bag. Hang. 3D, flat etc
Set up wooden Nativity Blocks
Read a Christmas story
Start Gratitude links
Act out the nativity scene with props
Make an advent wreath
Make spiced cider
Make a Christmas puzzle from old Christmas cards
Put cloves in an orange/satsuma
Make Christmas glasses for teacher and family.
Rent a Christmas movie: The Snowman
Make globe ornaments with acyclic paint
Complete a Gingerbread house ( see craft kit) or with graham crackers
Add to gratitude links
Build a nativity scene using Lego
bake sugar cookies and take to base.
Make jingle bells
Rent a Christmas movies: Nutcracker or read book
Make peppermint playdoh
Make Christmas lights using tin cans
Grate and make hot chocolate with marshmallows
Foam craft a hand print
Trim a tree with lollipop sticks
Sing Christmas carols
Watch Charlie Browns Christmas
Make spice cards – cinnamon ginger, allspice, peppermint, nutmeg ,clove orange.
Cut out Christmas cards as Thank you. or use letters to make a Thank You and take photo print.
Stay up late looking at stars
catch up,rest or repeat
catch up,rest or repeat
?
We're busy checking our Christmas Activities board and looking at the handmade boards on Pinterest.
Would love you to follow me there.
What's the most anticipated advent activity or event in your home?