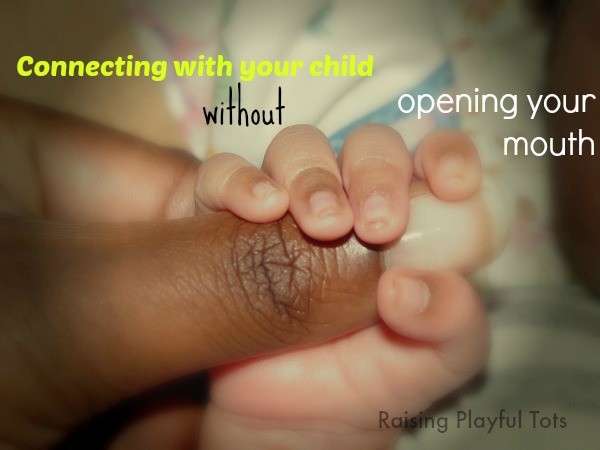 One of my favourite early pictures of my son is this one.
Our kids come in stereo surround sound and our homes can often be full of sound and activity.
We don't have to connect with our children only through sound. Using non verbal communication is powerful, useful and comforting in many situations.
There's an affiliate link in this post.
It rescues us when we have a little voice.  When we need to share privately but in public. When we need to be quiet but communicate from a distance. When we need some quiet and stillness. When we need a change of mood. When we need a focus change.
Today I'm exploring 9 ways we can communicate with our children without opening our mouth.
Raising Playful Tots – the podcast for parents who want to make the most of their playtime and enjoy simple parenting
Podcast: Play in new window | Download
Subscribe: Google Podcasts
Click the play button above and let's get some ideas
Show notes:
Using instruments in the family 
Getting your attention when you are talking
Get ready to greet your child but first do this
More about Conscious Discipline
WHAT TO DO NEXT:
So you've listened to this episode – if you liked it and want to hear other ones – and I really think you will….you should do this right now:
   How to listen and subscribe to this show
New to Podcasts?
If you've enjoyed the show please take the time to share it with friends and leave a review for it on iTunes or Stitcher.