Setting up a family ritual takes time as you try things out in your family. As the children get older we try new things and because sometimes we fancy a change.
Last time we talked about the need for a family ritual and explained the ritual from beginning too just as we were about to eat. You can read this beginning part first. There are some affiliate links within this post. Now on with this second part.
What happens after you've been grateful for the food?

Engagement, Questions and Games
During the meal we talk about our day, ask questions or these questions or our new questions source. We really like how that last book is split into questions for the kids to ask us and questions that we can ask them. We enjoy the table topics- Familia questions. We share projects, posters from school, test revision questions- anything goes. We've been big fans of dinner games, in the past and recently we've had fun with "Don't Say it!"
All our regular mats are maps, significant places to us or homemade. We have many Geographical games celebrating our love of travel and Geography and History. ( Personally, I'm always excited when the Peter's Projection Map comes out and the World Map, as we know it. No need to say anything to the kids. We have some good conversations about perspective)
Family meal gatherings are not quick and sombre things. We take time to rest easy in each other's company. We notice our moods. It's a time to laugh, share, catchup and connect. It's a place we want to be. Without it we miss what's going on with each other.
Service opportunities
When there's time, opportunity and space we like to serve the food into bowls and containers. We want the boys to learn how to serve others.
Guests are served first, then the ladies present and finally each other. This ritual came about slowly as a way of expressing self control, kindness and being mindful of the portion size we take.  Also it allows the boys, who are all quite quick eaters to pace themselves a little.
Closing up and getting up and down from the table
We have quite a full table. We try and discourage getting up and down from the table as it's really disruptive to those talking and the flow of the family meal. They are getting better at excusing themselves both verbally and non verbally without interrupting the speaker.
As acts of kindness the boys often take up the parents plates or each others. They've done this mostly themselves and we've not complained about it.
We wait for everyone to finish before serving dessert, if there is one.
Returning the collection, tidying up- knowing our roles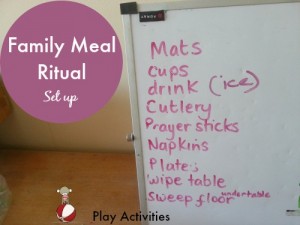 We put back what we brought to the table and generally  try and work together to get things back where we can find them again easily. I used to sweep and wipe the table but I realised just recently that I wasn't doing myself or the children any favours. I must say that the floor is a little cleaner now they are sweeping it 🙂
What you can't see in this photo is the name of each child just off screen. We use initials and rotate the people every so often. We leave up the initial for the last time so we have an idea of who did what and who is doing what and it helps for the next time it changes.
Making the family meal your own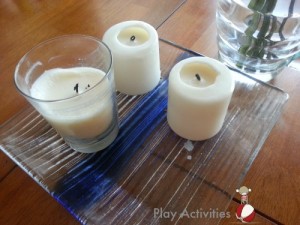 Our family meal looks quite structured but for the most part we've added things slowly as we felt it fit our family. That's the beauty of family meal rituals. We have our passions ( maps) and our values ( kindness and service) present. We keep it simple and repeatable. It's the backbone to future conversations with friends, colleagues and others.
It's not about family dinner or every meal spending time together as a family, it's about when we are together, making those moments count. Have high expectations for your meal. How we handle dinner is part of our family standard. Working together we have our best version of our family meal . A place where memories are born.
Click here to download a handy list of these actions so you can create your own family meal ritual
Enjoy other rhythms for family
Follow Mel Avila's board Simple rhythms and schedules in the home on Pinterest.