We love our Advent Calendar activities and by now you are probably well into your activities too!
We like to get a Christmas book each year to add to our collection . As they get older the books change.  The story is the same or is it? We all celebrate Christmas the same and differently. My children can't imagine a Christmas when it's not snow or cold.
Here are some books I would recommend to share with your family about Christmas traditions around the world.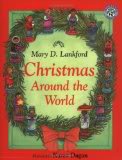 Christmas Around the World
What books do you have that show Christmas around the world?