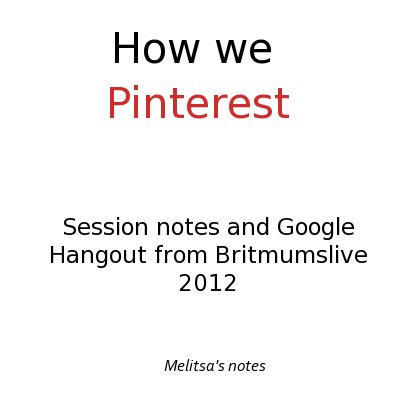 I was excited and anxious to be going to BritMumsLive. This year I had met a more people in real life and connected with many more so I felt happier knowing I would recognise friendly faces. I was super happy to know that the butterflies were there and yes I got to hang out with them. What a brilliant idea! I'm hoping lots of people got to swing by them and feel the warmth 🙂
On the way down on the train I was happily watching #britmumslive trending on Twitter. Although fun, the journey wasn't as fun as last year when I was in the train behind @MostlyYummy. She kept me smiling all the way with her funny tweets.  I was super excited to meet her on the Friday night.
I did see a tweet from @Mrs B hanging out waiting before going on to the venue. With the magic of Twitter we found each other and had lunch together. Dawn is really nice, friendly and chatty.  She was also speaking, all about tax and blogging although our sessions were on at the same time. We couldn't hear each other. Bummer!
I was glad to have lunch with her. Plus we were both going to arrive with someone. I think both our hearts were singing. I had my first experience of getting a cab!  Didn't know about the bus strike. Excitement!
At Britmumslive, I met some really lovely people who would just come up to you smile and start a conversation. How refreshing is that! I did my best not to babble which is what I do when I'm nervous. So apologies to you if you were on the end of one of my babbles. I'm sure I'll be better next time we meet. Not everyone had a business card and that was sad because I now have to hope they contact me.
I really enjoyed the weekend. For me the overarching message  of Britmums 2012 was to learn, choose and do what works for your blog. There's lots you can try and lots you may choose to avoid. Whatever you do….you do because you want to not because you feel you ought to.
Massive congratulations and thanks to Susanna,Jennifer and their team for looking after us so well.
I moderated the How we use Pinterest session with Alice and Rebecca. I counted 9 tables with 9 chairs, when we first arrived in that room, and wondered what it would look like if all those seats were taken. We were in a new room downstairs under the hub.
The room was packed with no chairs left and lots who sat on the floor.

Tried to make it an interactive session and encourage people to login to Pinterest so they could put changes into practise immediately.

We had a business card/ Pinterest ID table swap during the session so everyone could get to know more followers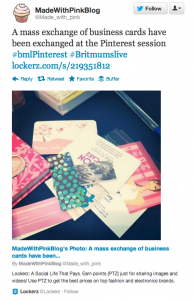 The session was part Q&A and partly the three of us sharing what we do and have learnt on Pinterest. I liked how people tweeted advice and ideas. It really got to the heart of what Pinterest is all about.

Sadly my few slides stopped working. I could see them but you could not. It totally frustrated me. Next time.
Here are a few notes from the session you can download them here.
Find more Pinterest followers by visiting the BritMums Pinterest Linky
The Pinterest session has its own hashtag on Twitter #bmlPinterest.
Tweet your Pinterest Id- e.g. https://pinterest.com/melitsa/ so we can go look around and hopefully follow your pins.
Alice, Rebecca and I will be tweeting some tips on this hashtag during the week. Feel free to ask questions and we'll help.
Share your Pinterest ideas.
Lastly, straight after the Pinterest session we did a brilliant Google hangout. I'm so used to talking on microphone with the Raising Playful Tots podcast, I had to remember to look at the camera and not at my notes ( ek!)  We got to share a few things in the hangout that we didn't get to in the session and I didn't mention in the notes…cunny plan I know. So you'll have to watch us to learn a few more things about Pinterest. Our hangout was more a live recording as we had some technical difficulties. We had gremlins! Repeat we had gremlins!

Thanks for stopping by. If you have any feedback about the session I'm all ears. What did we miss you were expecting? What would you like to know more about? What did you like?…and if you have any pictures can you let me know!
I'd like to thank my fellow panalists for sharing their information about Pinterest. There's so much more to share about Pinterest. Look out for information from Alice and Rebecca sharing their perspective  of Pinning and Pinterest.
Hope the session was useful to you.