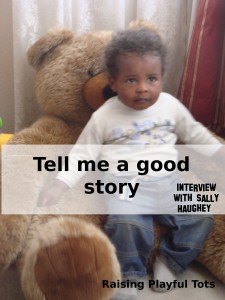 Today I'm talking Sally Haughey an early childhood educator and founder of fairydust teaching.blogspot.com
Listen::
Listen to this week's show
Podcast: Play in new window | Download
Subscribe: Google Podcasts | Stitcher
| subscribe through iTunes | on-the-go device
What we learn in this podcast::
What are some of the reasons  we should be encouraged to use fairy tales with our children?
How can we determine a good read quickly when choosing for young children?
What is hands on literacy 101?
How do you encourage parents to use voices and singing to their children?
What are story stones and how do they work?
What are storytelling pathways?
recommendations for books to use for storytelling
As a public school teacher how have you managed to combine depth with the demands of the curriculum.
Tell us about your ecourse called a dash of wonder?
Links::
Smart Moves: Why Learning Is Not All in Your Head
Here's What You Could Do Next…
Now that you listened to this episode of Raising Playful Tots, here's what you could to do next:
Education is meaningless without action. So, tell me what you learned from this episode, and how you plan to apply it to your family in the comment section.
If you enjoyed this episode, do me a favor and share it on Twitter or Facebook. Or better yet, send a personal email to one of your friends whom you'd think would love this.
This part is important. I'm currently have only a few reviews on iTunes, and I need to get to 10 reviews. If you have a few seconds, can you please go to iTunes and leave me an honest review (after subscribing).
Thank you.