THIS CONTEST IS NOW CLOSED. THANKS
*Congratulations to Beth H*
In our home, as soon as you sit down anywhere someone will bring over a book, or two for you to read.  We're a family of book lovers and use the library frequently to keep up with our habit. We love to give [tag]books[/tag] as presents over toys as it's such a precious gift and a great escape. Since books fuel the imagination and give rise to amazing pretend play scenarios we have a lot of books all over the house here.
By far our favorite books are those from [tag]Barefoot Books[/tag].
Barefoot books has a large range of books from timeless classics and poems to contemporary upbeat, multicultural books. All of them beautifully illustrated and with memorable story lines. We especially love that many of the books have singalong cds. The kids play them in their room or we put them on when we're in the car especially when we're doing all those stops about town.  Listening to stories and rhymes not only entertains them but helps improve their listening & memory skills. All the while bopping to a catchy tune or story.
There's something about listening to a story that draws you into the story. You can't beat it.
Books always make a great gift for kids. But which ones to choose? That decision is a lot easier this year with the fantastic gift collection range of Barefoot Books. Your favourite books altogether with a handy reusable bag for moving those books with you wherever you go.
For this giveaway I've selected the Readalong singalong [tag]gift set[/tag]. This is perfect for the under 5s.
Gift set includes:
Animal Boogie
Journey home from Grandpa
Farmyard Jamboree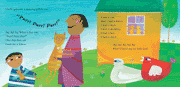 All with singalong Cds with the book.
Whatever your purse size this holiday time there are a range of prices to suit everyone.
Gift sets are new. Perfect for siblings, cousins, teacher gifts and birthdays.
Gift collections are new. They are a larger collection of books based around a theme like storytime or baby. Perfect for Class gifts, shower gifts and family gifts.
Little about Barefoot books
Barefoot Books is an independent, award-winning children's publisher. These books are free from media tie-ins (no TV or movie characters) and these complementary products inspire a child's imagination.
How to enter
1 entry visit Barefoot Books and tell me about your favourite book and why you like it in the comments.
For extra entries
Bloggers: Posting this giveaway on your blog and linking to it (leave the link as a separate comment) trackbacks counted 1 entry.
By email: Visit Barefoot books and email (playactivities (at) mybarefootbooks ( dot) com) the answer: How many new gift collections are available? 1 entry.
Twitter: Twitters please leave your @username and post a separate comment on the day you tweeted this giveaway. So I can find you 🙂  1 entry.
Please make it very clear if you have different usernames, aliases so I can add up your entries. That's 4 possible entries!
If you want to be kept up to date with catalogs, special offers, discounts and new books from Barefoot Books sign up for the Barefoot newsletter.
Comments close Friday 5th December 2008 11.59 MST.
Winner will be chosen randomly.
Contest open to US addresses only
Winner is required to reply by 8th December to ensure Christmas delivery.
All comments are moderated so they won't show immediately on the post.
And lastly, as a thank you for visiting my blog, I am offering my readers 15% off on all purchases from my site using the 15% banner link . Please remember that you MUST click on the banner in order for your discount to go through.