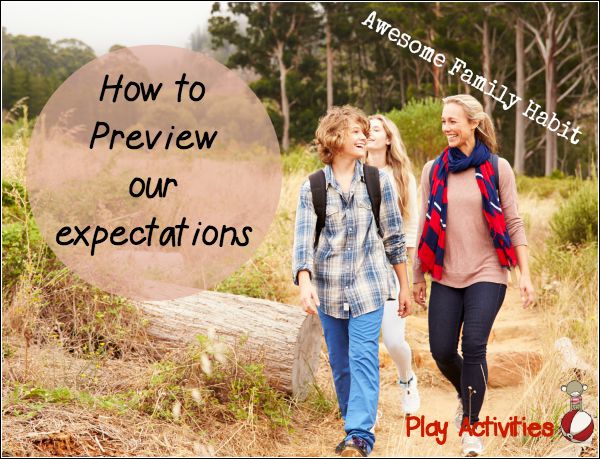 Part 1 showed us why we need to preview with our children for a happier harmonious family home. Go there now to catch up on what is previewing and why we need to do it more in our homes.
Here in part 2 we're looking out how to preview with our children and how to have that better experience when transitioning.
Here's how we previewed our weekend away to a family retreat to Great Wolf Lodge.
Tell them what's about to happen ( Preview)
We've signed up for a family retreat and there's lots of fun things for the family to do like a water park. We'll stay in a hotel and we have to drive a little bit to it. We went into as much detail as we knew and before we'd got much out the questions started coming.
Ask them the expectations ( Retrieve)
What do you think we should be doing when we're in the hotel room?
What happens if things are different to what you're used to?
We asked these and a few other questions that helped to manage their expectations and ours about what we flet would happen. We painted a picture. It was a chance for them to ask questions again about our family rules. So of course we discussed TV and electronics time and how to tackle a buffet. Not everything we do at home should be done when we're away. It's a chance to so the flexibility of the family and how we adapt to different situations.
Walk them through some scenarios  ( real time thinking)
What happens if you get lost? What's the best way to share a space? What's the best thing you can do when you're awake and bored at 5am? ( In your room, humming and drumming on the bed would have been fine but in a shared hotel room you just wake up 4 other people who are cross- true story!)
Based on other experiences and the temperaments of the children we can walk them through situations to help them feel secure while in this new environment. The children  will offer advice, ideas and support to each other.  Anticipate and provide a chance to discuss solutions.
and allow chance to adjust and comment ( reflect)
We had these conversations in the week leading up to us leaving. There was ample chance for them to come back with more questions after they had time to reflect. These reflect times really gave the boys time to see into what could go and build a picture of what was to come. Once there, none of them seemed anxious or sullen. A big contrast to the ball. The reflection time helps them think of others and not just themselves.
Share your family way of handling it ( values)
Here's the good opportunity to take a fresh reminder of our family values. For us we talked some about manners, politeness and minding others since we're sharing space. Letting things go and thinking of others. Here's a printable prompt of family values. We used questions like, what would be the right thing to do if someone bumped you in the line? Often we'd start conversations with- in our family we would…. We gave other families permission this way to do what's best for their families and we choose what we feel is best for ours.
Pause and time to process ( Sets a direction or destination as a choice)
They could naturally come up with things to bring in the down times, suggestions of things to do nearby or when we're there. They might have choices for audiobooks or DVDS along the way. Instead of unchartered territory as a family we had given them a few landmarks and a direction. There's still space to explore and learn but now within secure and safe parameters. Allowing at least time overnight helps as they transition from their regular rhythms to this new experience. Giving a timed warning is another effective method.  We're leaving in 20 minutes is better than let's go. It's time to go.
Unexpected outcomes of previewing
When previewing situations becomes a regular family habit there are a few unexpected outcomes. They bring situation to you about things that happen in school. They have the framework of how to couch the situation without getting their friends into trouble. Often we're faced with dealing with situations alone and in the moment. Previewing allows us to put lots of heads together and get many ways to view a situation.  It normalizes, it is okay to ask for advice and help.
Now we have alternatives and choices and are reminded that there's many ways to react and do and each bring different results.
Getting our children to think before they act is a hard.
As is deferring gratification for some children. Previewing gives the family chance to practice these essential skills within our loving atmospheres. Previewing doesn't just happen in families. After all, CEO and future leaders share their vision, their next big idea, the project with their workers. They have to work through the situation, be proactive, foresee problems head them off and reflect too.
 Where to get ideas
Keep a list of family situations that could do with some previewing. Here's some family preview ideas in this printable.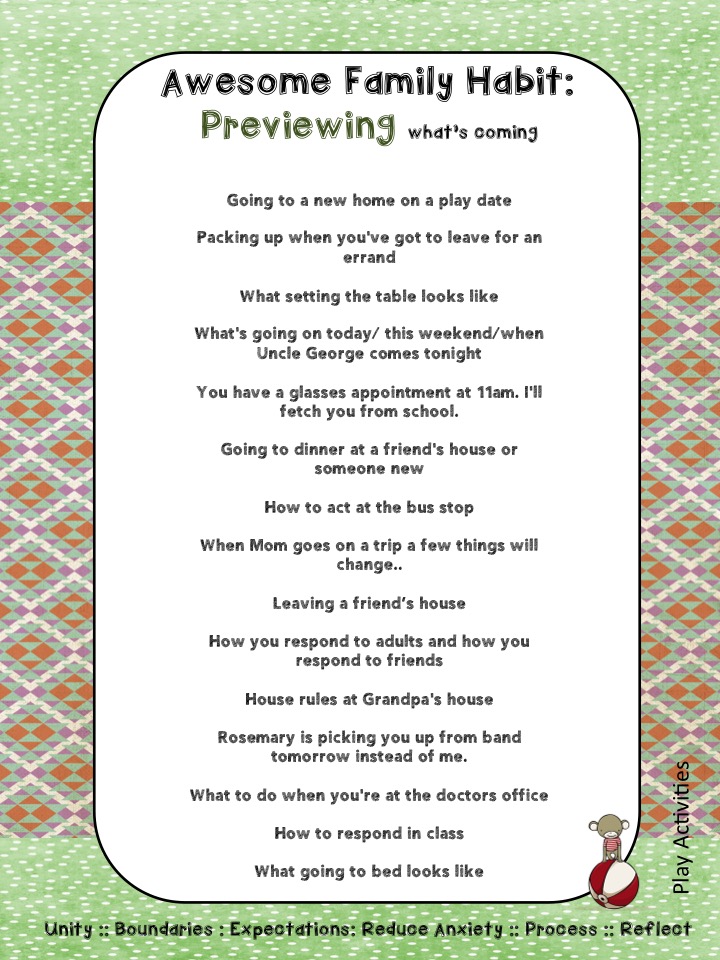 Download the family habit preview printable
I love Evernote for this as I see Facebook Videos, Pinterest Stories and Magazine News reports, I either screen shot them or send them to a family notebook dedicated to conversation. Great for conversation starters at mealtimes or in the car. Topics don't have to be heavy but relevant for your family. Other peoples situations make for good family learning too.
Previewing takes time. Bedtime is a great time to do this although as our family has gotten bigger it's easier to do this altogether than with each child at least when we're initially talking. As the children have gotten older family roundtables and meal times have been good times too.
This is part 2. Read part one about how previewing will lead to a more harmonious household.