Focusing on the good stuff. If we want more good to happen we have to make good the priority.
It's the light at the end of the tunnel that helps us persevere.
It's the rainbow on a stormy day.
It's the smile that changes the mood.
All the things that aren't working really well are right there on the tips of our fingers and ready to bubble over. When the kids get angry and frustrated it's hard to work with them in this state. They need to be calmer.
Wouldn't it be good to have a
written reminder of your awesomeness

when you're feeling less than awesome? Imagine that the awesomeness comes from your family ( and they really mean it!)

Listen in to the conversation about Appreciation boards and how they encourage writing +  saying how grateful we are for each member of the family- an awesome addition to our homes. ( I just loved the alliteration to death didn't I!?)

Do you have an appreciation board?
Raising Playful Tots – the podcast for parents who want to make the most of their playtime and enjoy simple parenting
Click the play button above and let's get some ideas.
INFORMATION FROM THE SHOW
Why you need an appreciation board in your home?
How you can use an appreciation board to change the atmosphere in the house?
Frozen Stars Fizzy Baking Soda Science :: Little Bins for Little Hands
Top 10 Summer Science Experiments for Kids :: Fun a day
TOP 10 Summer Learning Activities Blog Hop :: This Reading Mama
Parenting Quotes -board                                                               Positive Family- Positive you!– board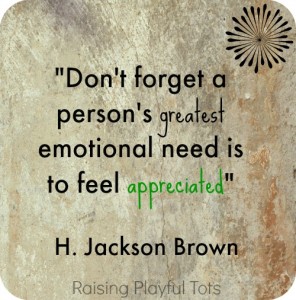 WHAT TO DO NEXT:
So you've listened to this episode – if you liked it and want to hear other ones – and I really think you will….you should do this right now:
   How to listen and subscribe to this show
New to Podcasts?
If you've enjoyed the show please take the time to share it with friends and leave a review for it on iTunes or Stitcher.