Imagine listening to a story in the car or at home with your child. Not just any story but an advent story. Meet Charlie and Noel a new  25 part advent calendar story from Franziska of HomeNaturally.org. We talk about her new advent story available to download on the Kindle, as a pdf or the audio version. We also talk about living simply at Christmas as a homeschooling family.
The whole show is devoted to advent calendars with activities.
+  a giveaway!
Listen to this week's show
Podcast: Play in new window | Download
Subscribe: Google Podcasts | Stitcher
Read the shownotes below for links
Links
Easy Advent Activities :: Play Activities
Advent Spiral :: Moonbeams and apple sauce
Christmas counters :: Poppy talk
Giveaway ( closed)
During the show we had an interview with the author of Charlie and Noel an advent calendar story. We talked about what you could find and ideas on having a slow and simple Advent. Check out the show about by clicking the player or downloading to your favourite device.
If you're looking for a mindful way to celebrate advent. Maybe you'd like some connection time and want to change up your story time. This advent calendar story is a perfect transition activity to build calm in before a nap/bedtime or the change in energy of the day.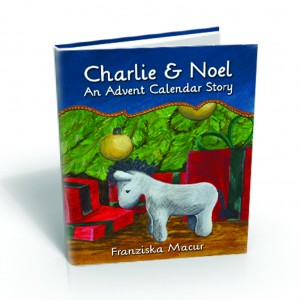 To enter to win a copy of the calendar, here's what you do.
Enter below your favorite family  Christmas activity or advent calendar traditions.
Let us know that you want to be entered into win this calendar.
Who would you gift this advent calendar to if you had the chance?
Multiple entries
Enter another family Christmas activity or advent tradition.
The calendar will be a downloadable file either for audio or pdf. There is also a kindle version. It is not a physical product.
Open Sunday 1st December 2013 and closes Sunday 8th December 2013. Winner will be chosen randomly from the valid entries. Winner will be emailed and announced here. If no response within 24 hours a new winner will be chosen.
If you want to buy your own copy grab yours here
Get in touch
Sharing
If you have enjoyed a show and wish someone you know had heard it let them know.
Please let your Twitter friends know about this podcast- Click this link
Like us on Facebook     Follow us on Pinterest
New to Podcasts?