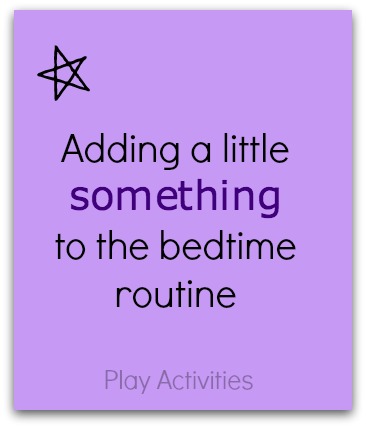 Bedtime routines.
It's the consistency.
Finally after almost 10 years of bedtimes I've finally learned to embrace the fact that as a family we don't have a regular set bedtime routine. And you know what? That's okay for us.
I don't know what I thought everyone else did or does. I just felt a heavy heart knowing that we really didn't do a regular routine. But I look at why and it's usually because of the end of the day tired syndrome along with three energetic boys and one me. We have things we do during the evening that prepare for bedtime.
I thought it would be fun to dream a little of things you could do at bedtime if you're looking to make a change. Maybe something needs fixing, improving or you fancy a change.
Yoga for Kids: Three Moves and Poses to Try:: Metro Parent
Bedtime Meditations for Kids (Calm for Kids)  :: Amazon
20 Soothing Bedtime Crafts: Spoonful
Bedtime sensory tub: lavender dyed rice :: NurtureStore
Welcome to The Sunday Parenting Party, hosted by
Dirt and Boogers
,
Play Activities
,
Crayon Freckles
,
Taming the Goblin
,
The Golden Gleam
,
Prickly Mom
, and
The Tao of Poop
. The SPP is place for readers to find ideas on nurturing, educating, and caring for children, as well as honest posts about the stresses of being a parent or caregiver. Links to reviews and giveaways are welcome as long as they are relevant to the topic. All parenting philosophies are welcome with one exception: please do not link to posts promoting physical discipline, as this is something we would feel uncomfortable having on our blogs. (P.S. By linking up you agree that your post and photos are Pinterest, Sulia, G+ and FB friendly. We will be showcasing ideas on The Sunday Parenting Party Pinterest board.).