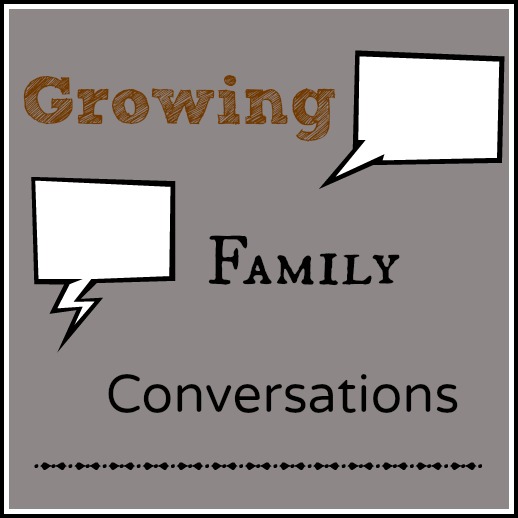 Connecting, listening and growing through family conversation is the theme for these 31 days.
Remember when you would talk on the phone endlessly to your boyfriend. There wasn't enough time in the day to say what you both needed to say. When you're around your girlfriends time just flies and nothing is off limits.
We would howl with laughter, cry, smile- something about these conversations lift us and keep us.
Time's moved on.
When you're deep in early childhood, conversation is just another thing to do. After many sleepless nights, busy work life, husband or wife's work schedule, raising children or trying to raise children who will become fantastic adults, somehow conversations get lighter, shorter and quicker.
That kinda sorta doesn't work does it?
It's now we need more conversations, some of them deep about direction. Some of the conversations need to be about us. Some of the conversations need to inject some fun 🙂
Because when we look back at those early times it's the stories and conversations that fuel our memories.  It's the whole journey we are having. Questions and conversations are it!
What will our memories be of this early childhood season?
How will we remember this journey?
So we're going to be deliberate about growing family conversations so we have no regrets.
During these next 31 days the challenge is to 31 days of growing family conversations. Each week there will be a different theme. While we can't replicate the type of time we had back in the day.
I hope that we get a glimpse ( more than a glimpse) the feelings of connection that we felt then of completeness, energy and excitement of fully listening and participating in conversations with those that were special to us. Like we can tell our story and share our journey about then. We're making one, actively being part of one, now.
We'll bring conversation, journey and story fully forward to be part of life now within the newness of our present family. Maybe what you talk about in the next 31 days will become family legend spoken and laughed about for years to come.
Life is fully, different, better when we can all have growing family conversations and truly listen.
Starts 1st October.
Are you doing a 31 day series? Let us know in the comments
To get this series sign up to the RSS feed.
Add to your feedreader
Have each post emailed to you.
If you enjoy this type of conversation join us over at our chatty cousin

31 days of Growing Family Conversations